Cross-Drilled & Slotted Rotors
Stoptech Cross-Drilled & Slotted rotors are 1-piece, drilled and slotted, direct replacement discs for your factory brake system and stock calipers. They offer improved cooling as well as other advantages the competition doesn't offer. Innovations include e-coating, double-disc grinding, full machining, mill balancing and center-split castings, as well as the availability of directional vanes, cryogenic treatment and the use of Power Alloy. Today, Stoptech Cross-Drilled & Slotted covers more than 2500 applications, all machined in Stoptech Cross-Drilled & Slotted California manufacturing center. Every Stoptech Cross-Drilled & Slotted rotor is a direct replacement for a factory brake rotor, allowing the retention of factory calipers in the system.


Directional Vane Design
Most Stoptech Cross-Drilled & Slotted rotors match the original factory cooling vane design. In the most popular sports car and light truck applications, Stoptech Cross-Drilled & Slotted has improved the design by using directional (left- and right-handed) vanes to improve cooling. This represents a distinct upgrade from the original equipment rotors, which usually feature a straight vane or pillar vane design. The directional vane is a more efficient air pump. The resulting increase in airflow translates into greater resistance to brake fade and faster recovery from temperature spikes generated by aggressive braking maneuvers.
Cryo Treatment
Stoptech Cross-Drilled & Slotted rotors are also available with an optional cryogenic treatment called Stoptech Cross-Drilled & Slotted Cryo. Although cryogenic treatment is invisible to the naked eye, many of Stoptech Cross-Drilled & Slotted's fleet customers are sold on its ability to extend the wear life of the brake disc. Deep cryogenic treatment is a one-time process that permanently improves the performance and service life of metal components, from brake rotors and engine parts to machine tools and gear sets. Using a proprietary, computer-controlled process, the metal is cooled to -300?F before gradually being heated to +300?F, and then slowly returned to room temperature as the final step.
E-Coated Finish
Every Stoptech Cross-Drilled & Slotted rotor is finished with a black e-coating on both sides of the hat, inside the cooling vanes and on the outside edge. E-coating is a superior electro-statically applied finish designed to withstand 400 hours of salt water exposure without rusting. This is especially important on both mounting faces of the hat where it touches the hub flange and back face of the wheel. Any accumulation of rust in these areas can lead to installed lateral runout issues.
Double Disc Ground
Stoptech Cross-Drilled & Slotted rotors feature a double disc ground, taper free finish. Double disc grinding ensures parallelism, eliminates run out and provides near perfect disc thickness variation (DTV). Double disc grinding leaves a non-directional finish on the friction surface area for more effective pad and rotor break-in. This special finish also provides quieter and smoother stops.


Machined Finishes
Stoptech Cross-Drilled & Slotted rotors feature 100 percent fully machined finishes including rotor hats. This extra process provides better rotor balance and creates a cleaner, more finished looking component.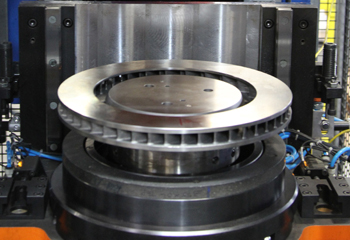 Mill Balancing
Stoptech Cross-Drilled & Slotted brake rotors are mill balanced to a tolerance of less than 2 oz-inch. This additional machining operation reduces feedback associated with rotor vibration and provides a smooth, confident application of braking force.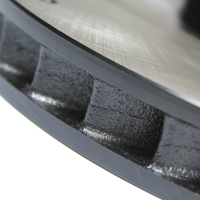 Split Castings
Center-split core castings provide proper heat transfer and thermal efficiency, resulting in superior braking power and safety.
Power Alloy
Power Alloy metallurgy is another unique feature in many of Stoptech Cross-Drilled & Slotted's rotors. Quality and performance live inside the rotor too. Choosing the correct foundry partner and working to improve the metallurgy are all part of Stoptech Cross-Drilled & Slotted's continuous improvement process that helps to reach established targets for hardness and tensile strength. Many of Stoptech Cross-Drilled & Slotted's top-selling part numbers are cast using this Power Alloy iron specification, an enhancement in the carbon and molybdenum content of the iron. Carbon and molybdenum promote crack resistance and improve noise, vibration and harshness (NVH
⚠️CALIFORNIA WARNING: Cancer and Reproductive Harm - www.P65Warnings.ca.gov
---