CLEARANCE ITEM - Only 1 Kit Available at this Price! 
 An all new approach to air spring packaging allows for seamless integration with your Audi B8's factory dampers to ease in installation and retain Audi's advanced damper technology (especially critical if your Audi is equipped with CDC). An innovative 3-segment adjustable air spring perch allows you to achieve optimal ride dynamics regardless of your choice of wheel/tire size. With 4 inches of front and 6 inches of rear suspension travel, you can achieve the desired stance for your Audi B8 without sacrificing the overall functionality of the vehicle. A complete line of complementary management component mounting brackets built specifically for the Audi B8 allow all aspects of the system to be bolted onto your vehicle in a matter of hours. The Audi B8 package is
AccuAir
's fully-loaded option for the Audi B8
The e-Level Air Management Packages (AMP) bring together all of the highest quality components available to operate your Air Springs in one easy to order part number. Choose between one or two compressors for lightning fast recovery times. This package includes the e-Level Electronic Leveling System with TouchPad Interface, VU4 Solenoid Valves, 2 Viair 400C Compressor, 5-Gallon Aluminum Air Tank, aluminum Air-Filter, and D.O.T. Plumbing Kit.
The e-level controller offers the ability to save three unique vehicle heights into memory at the touch of a button using TruPosition Height Sensors installed in each corner of your suspension. These three heights are then instantly accessible from the TouchPad Interface. The key to this technology is AccuAir's proprietary RideMonitor Mode; While parked or driving, the system will maintain the vehicle height when loading or unloading passengers and cargo or when road conditions change while driving.
For the ultimate in form and function, the intuitive TouchPad is the top of the line interface option for the e-Level Controller. Hand held or mountable, the TouchPad gives full manual control over each air spring individually as well as front and rear air spring control in pairs. Saving and accessing your three preset heights is only a touch away and a yellow glowing ring around each button clearly indicates the current vehicle height. The "All-Down" button fully deflates the vehicle for parking.
Features:
Front/Rear Air Springs, Brackets, and Hardware (pair)

Bulkhead Fitting Kit with Elbows (for trunk entry)

Tank Mounting Brackets and Hardware

Front/Rear Height Sensor Bracket Kit and Hardware (Left | Right)

TouchPad Mounting Plate and Hardware (Console Right)

Dual Compressor

e-Level Air Management Package w/TouchPad (Black) Interface

Power Supply Kit

3 EXO Clamps

ZERO COMPROMISE

The AccuAir Sport Air Suspension Systems have set a new precedent for what automotive enthusiasts should expect from an aftermarket suspension system. From canyon carving to driveway clearance, show stance to family comfort, these packages are engineered to give your car's suspension the best of ALL worlds. The AccuAir Sport Air Springs are designed to integrate seamlessly with your factory dampers (especially critical for vehicles with factory equipped electronic damping), or aftermarket dampers of your choice. An innovative 3-segment adjustable air spring perch allows you to achieve optimal ride dynamics regardless of wheel/tire size.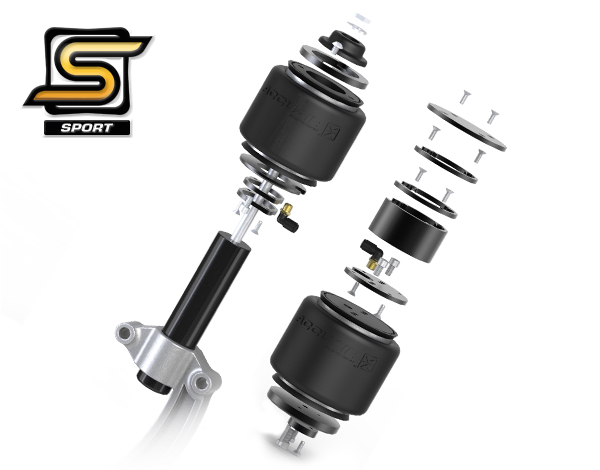 TRUTH IN ENGINEERING

AccuAir's Sport Air Suspension Systems are engineered to have increased spring rates over the factory suspension to bring improved handling with a great balance of ride comfort for daily driving. AccuAir spends months testing each application to guarantee consistent ride quality and handling results. A very advanced in-house test rig was developed specifically for testing vehicle spring rates and allows us to guarantee that each Sport Air Suspension engineered will perform at a true sport level.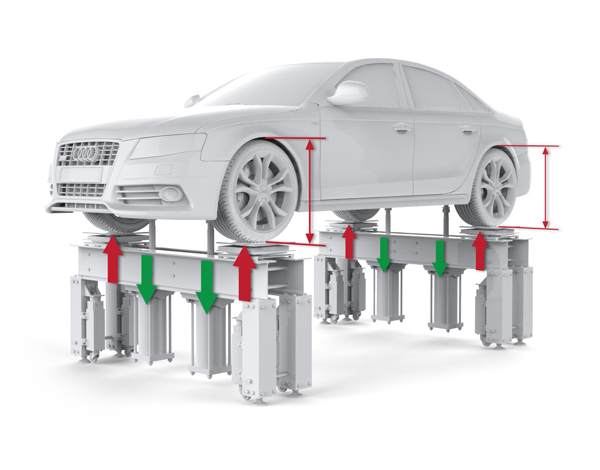 FORM AND FUNCTION

We put our 2013 Audi S4 test mule up against an industry-leading coil-over equipped Audi S4 at MotorTrend's test facility in Fontana, CA. The results were revolutionary: Once in the canyons, we were able to gain speed, tipping into triple digits on occasions, experiencing everything from long sweepers to tight twisties. And yet the AccuAir System remained flawless. Road imperfections were absorbed without any disturbance, and the limit of adhesion was extremely hard to find. It's clear that AccuAir's intention of redefining air suspension has been an overwhelming success. The company has created a system unlike anything else currently on the market, and unlike anything that we, as enthusiasts, have previously experienced. For the price, convenience, looks and dynamics, the AccuAir Sport Air Suspension System was the clear winner in our test. Alex Bernstein European Car Magazine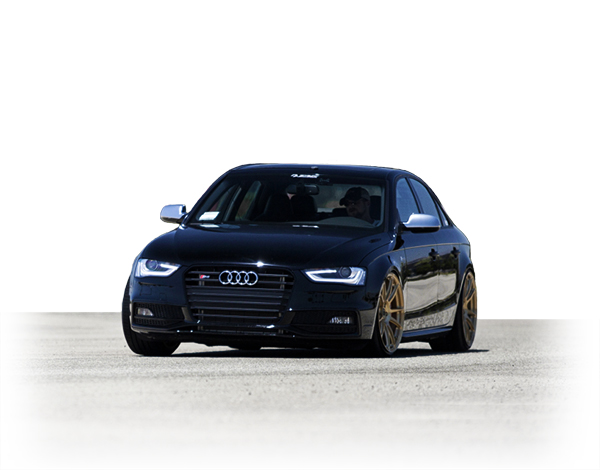 SEAMLESS INTEGRATION
The
AccuAir
Sport Air Suspension line targets late-model vehicles where little to no modification of the factory vehicle is critical to most buyers.
AccuAir
has gone to great lengths to develop optional vehicle integration brackets specific for each application. From height sensor mounting brackets (shown here) to complete compressor and tank mounting brackets, these options make for faster installation, little to no vehicle modification, and a very factory fit aesthetic.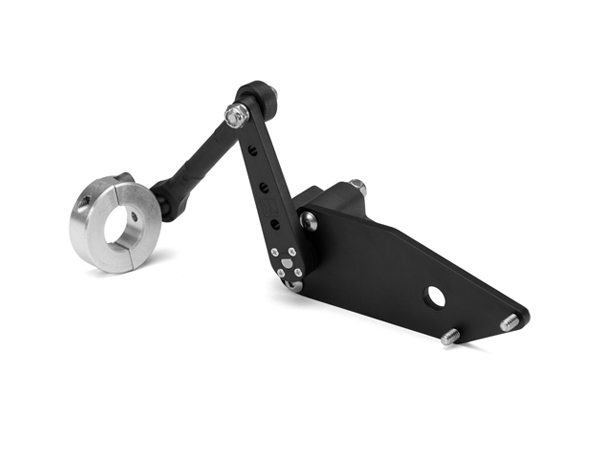 KIT INCLUDES: