Agency Power has developed these OEM Boost Recirculation Valves (BRVs) for the Porsche 997 Turbo VTG turbochargers. Like on the older 996TT, the stock valves use a rubber diaphragm which will leak boost on the higher RPM. This part also deteriorates over time leading to boost failure. The new Agency Power BRV uses a piston and spring design like our other popular diverter and blow off valves we have been producing since 2005. This design holds boost pressure all the way to redline and with the VTG design, helps boost come in stronger. The 997 VTG Turbos have the valve mounted directly on to the turbocharger. To add this enhancement on the 997 Turbo, Agency Power had to engineer a product that would be a functional OEM replacement.
Each valve has been CNC machined from 6061 aluminum. The base of the valve was precision engineered down to the ten-thousandth to fit into the stock VTG turbocharger. Inside the base is an aluminum piston that has been 3D machined. This piston is hard anodized and in conjunction with the provided grease and o-rings, provides an air tight seal as the piston moves up and down. Agency Power then had to get the proper spring rate to handle stock boost or high horsepower cars. The top of the valve mates to the base and then 3 allen head bolts fasten it to the turbochargers. The top features a boost nipple for easy connectivity of the stock vacuum line like the OEM unit. The top features a laser engraved AP logo and Agency Power text while the entire assembly is anodized in either brilliant blue or stealth black. As tested in a VR750 package car, these valves held boost consistently.
The valves are sold in pairs and fit all Porsche 997 Turbo and GT2 vehicles. These are Made in the USA.
Notes:
All Agency Power products come with a LIMITED LIFETIME warranty when you fill out this form HERE.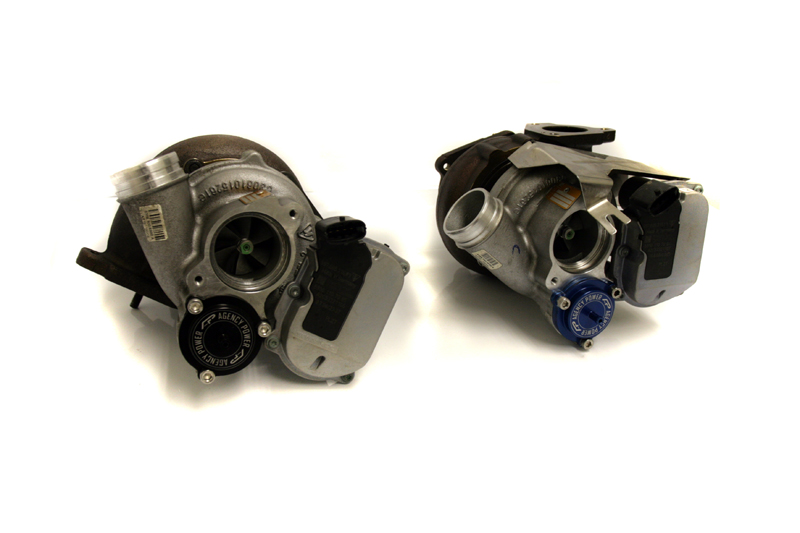 ---