Introducing the Avant Garde M610 Wheels. With its multi spoke and inner lip design, the Avant Garde M610 does an excellent job in showcasing your breaking components. With over 40 years of experience, Avant Garde understands the level of attention to detail that should be required from everyone in this industry. As a result of Avant Garde's unique manufacturing abilities, Avant Garde is able to produce vehicle specific fitments designed to fit each application as aggressively as possible without compromising on style. Every Avant Garde wheel is produced with specific vehicles in mind in order to cater to the various niche markets from around the industry.
For those few who seek genuine exclusivity, Avant Garde Bespoke is a new program catered to those who demand a tailored wheel customized to the their specifications. PUSH THE BOUNDARIES Avant Garde prides themselves on producing vehicle specific fitments engineered to fit as aggressively as possible without compromising performance. Now with the ability to produce custom bolt patterns and custom offsets, Avant Garde Bespoke provides each driver with their own perfect balance between form and function. MAKE A STATEMENT Finish is more than just another decision. It evokes emotion. It reveals personality. It makes a statement. Whether you choose from the plethora of powder coat colors or go with a multi-stage finishing process involving brushing and polishing, the Bespoke program allows each person to create somethonaling truly unique.
Size:

20x9 / 20x10 / 20x10.5 / 20x11 / 20x12
Bolt Pattern: Custom
Finish: Custom

Lug Type:

Cone seat

** Bespoke Wheels are Sold as a SET of 4 ONLY

** Lead time is 3-4 Weeks for Custom Wheels.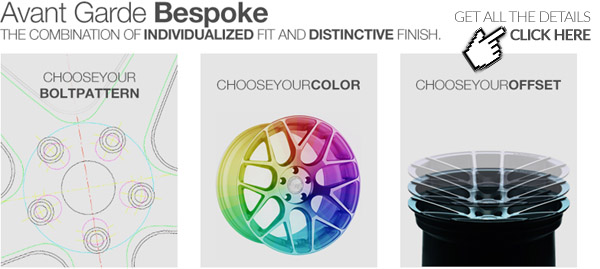 ---