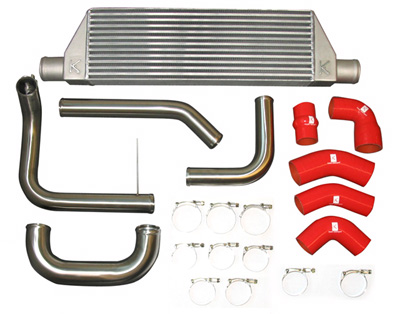 NOTE: Actual parts not shown for intercooler kit.
The Stage2 VR6 Turbo Kit is sure to satisfy the need for speed in just about any driver, adding the Kinetic Motorsport Aluminum Intercooler Core. This kit is specifically designed for the 1999.5 - 2002 12V VR6 MK4 Golf/Jetta. Depending on exhaust size and octane of fuel you should see between 280-300whp.
Kit Features:
- Kinetic Motorsport (Rotomaster) 60Trim T3/T4 Turbocharger
- Kinetic Motorsport VR6 Manifold
- TiAL 38mm Wastegate
- 2.5" Stainless Steel Downpipe
- 3" Stainless Steel Intake
- Braided Oil Lines with all fittings
- AFE Re-useable Air Filter
- Kinetic Motorsport 4" Black Anodized Aluminum MAF Housing
- Kinetic Motorsport Silicone Hoses and Stainless Steel Clamps
- Bosch 36# Injectors
- C2 Motorsports Flashloaded 36# Software
- Spark Plugs
- Hardware/gaskets/nuts/bolts etc.
- Kinetic Motorsport Aluminum Intercooler Core
- Black Sandtex Powder Coated Intercooler Tubing
Note: Your ECU must be shipped to C2 Motorsports for flashloading.
CTS Turbo makes performance aftermarket parts for late-model Volkswagen, Audi, and BMW models. From cold air intakes, catch can kits, performance exhausts, to turbo kits – the CTS Turbo team of engineers and fabricators is working hard to develop the best performance parts for your car.
---