All parts whether purchased through Forge UK, Forge US, Forge Asia or one of our dealers, its life started at our headquarters in the UK. Forge has a long association with making performance parts for previous Mini's and these are the latest for the Gen 3 Mini.
The Underbody Brace kit was designed by our highly skilled Research and Development Team at Forge Motorsport UK HQ. Using the best software on the market we simulated structural tests on multiple designs to see which came out on top. Once the design was decided sample braces were machined and bolted onto the vehicle for testing. After weeks of extensive R&D we concluded that our design was far more superior than the OEM. Adding rigidity and support to the chassis and suspension.
Both braces are CNC machined at Forge UK HQ based in Gloucestershire, England from a single block of billet aluminum, it is the highest quality of 6000 series aluminum alloy. Following a quality control check they are anodized in the "Forge Blue" color to give it an aesthetically pleasing and elite look. We offer our Forge Motorsport Limited Lifetime Warranty on the material and manufacturing process of the braces. Due to the harsh environment of where they are fitted we cannot offer warranty on the anodized finish.
Forge managed to create a part that is incredibly simply to install and can even be fitted with the existing (OEM) bolts from the vehicle.

Highlights:
Developed to increase strength and rigidity over the OEM.
Precision CNC machined from a single billet of 6000 series Aluminum alloy.
Supplied with a Blue anodized finish only.
Designed in Forge's dedicated Research and Development Facility in Gloucester in the UK.
Limited warranty on the material and manufacturing processes. Due to the harsh environment of where this part is installed the anodized finish is not warranted.
Simple to install. Remove OEM braces and install Forge braces with existing bolts.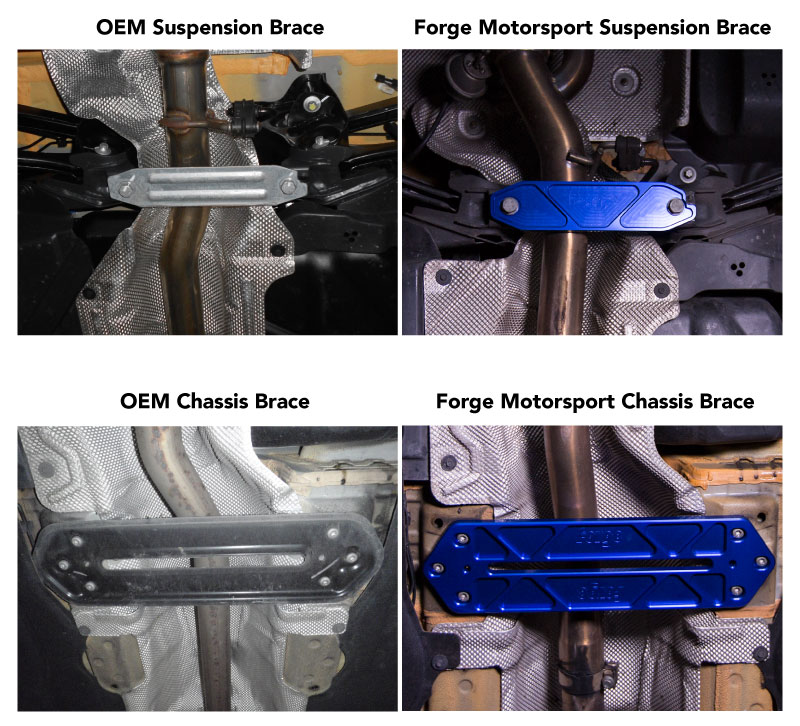 Founded in 1996, Forge Motorsport is a performance parts manufacturer that prides itself on the ideals of innovation, clever design, customer care, and making products of only the highest build quality.
---