The IE Overdrive Crank Pulley Upgrade is designed to work in-hand with the IE Overdrive Supercharger Pulley Upgrade Kit. When installed together the charger speed will increase by 26% resulting in higher boost levels and more power. Also required for proper operation is a stage 3 tune and intercooler upgrade. Healthy power gains will be realized from running a dual pulley setup, however, gains will vary depending on the ECU tune used. This pulley also removes all supercharger torque from the OEM Damper unit, greatly decreasing the chances of damper failure.
Installation Note:
The Crank Pulley installs over the stock crankshaft damper which is a relatively simple process. However, and mounting boss will need to be clearanced in order to allow sufficient space for the serpentine belt. A grinder or dremel tool will be required for this process. IE's full install guide is located here: (LINK COMING SOON)


| | | | |
| --- | --- | --- | --- |
| Pulley Type | S/C Pulley Diameter | Crank Pulley Diameter | S/C Ratio |
| Stock Pulley | 63.20 | 162.25 | 2.5672 |
| IE Stage 2 Pulley (S/C Pulley Only) | 57.5 | 162.25 | 2.8217 |
| IE Dual Pulleys (S/C & Crank Pulleys) | 57.5 | 188 | 3.2695 |

Features:
Installs over the stock crank pulley
Increases supercharger by an additional 16%
Increases supercharger RPM by 26% when paired with overdrive supercharger pulley
Retains OEM damper to ensure crankshaft safety
Lightweight CNC aluminum construction
Includes new serpentine belt and all hardware
What's Included:
1x IE Overdrive Supercharger Pulley
1x Overdrive Serpentine Belt
8x Overdrive Crank Pulley Bolts
What's NOT Included, But Required:
3.0T Supercharger Pulley Puller Tool (IEBAVJ4)
Stage 3 tune (IE tune coming soon!)
Cold Air intake (IEINCG2 S4 intake or similar)
Heat exchanger upgrade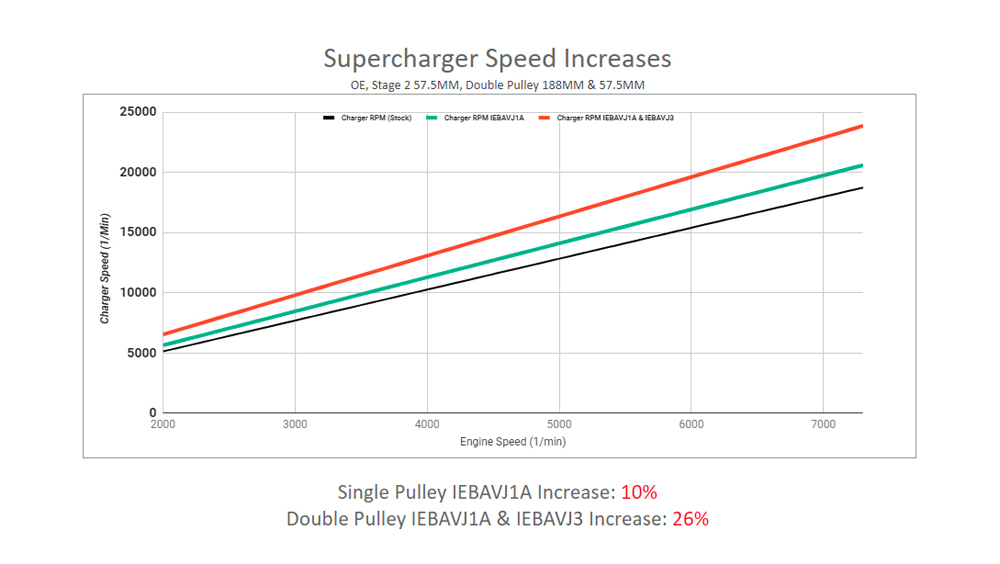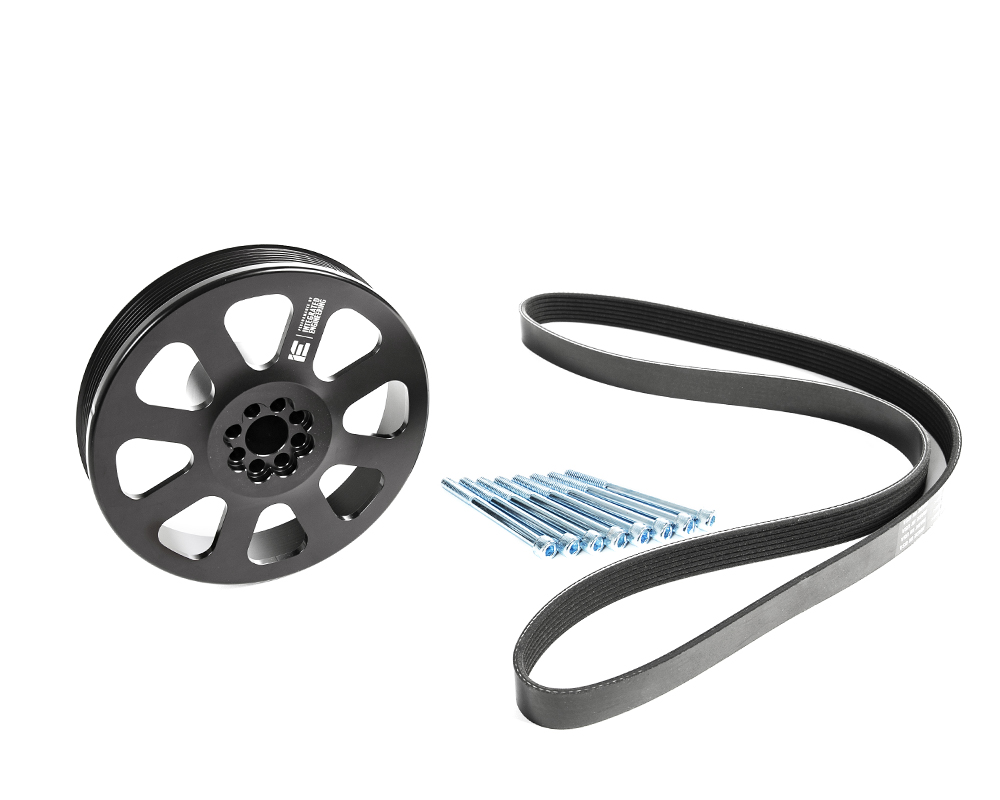 About Integrated Engineering: Merging decades of experience with hundreds of hours of prototyping, engineering, dyno testing and daily usage evaluation has output exhaust systems that are the ultimate compliment to your performance car. IE products are proudly engineered, designed, and manufactured in-house, in Salt Lake City USA.
---