OVERVIEW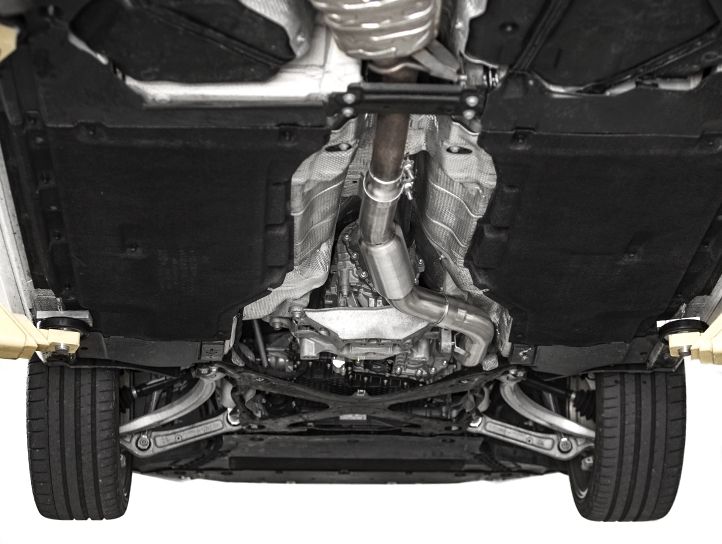 IE B9 Audi 2.0T 3" Catted Downpipe
The IE B9 A4 & A5 Catted Downpipe works to reduce turbocharger back pressure and increase power. In turn, turbo spool should increase and with a performance ECU tune you will unlock the performance potential of your car. Experience power gains across the entire RPM range as the exhaust emits an aggressive sound that you are bound to love. All IE exhaust systems are designed in-house using state of the art digital scanning for a perfect fit and manufactured from thick wall 304 stainless steel offering a lifetime of performance and fun.
VEHICLE FITMENT
Audi - A4 2016+ (B9) 2.0T
Audi - A5 2016+ (B9) 2.0T
Audi - A4 Allroad 2017+ (B9) 2.0T
POWER GAINS
Installing the IE 3" catted downpipe on your B9 A4, A5, or Allroad 2.0T engine, you can expect huge power gains of +20-25HP when installed with a Stage 2 ECU tune or plug-in tuning box (this can vary by brand). *Power figures are on full bolt-on and tuned Stage 2 cars. Power measured at the hub performed on a hub dynamometer, power figures are taken from multiple vehicles. Power gains may differ from advertised as individual vehicles will vary in maintenance, mileage, and conditions.
LEADING FEATURES
Excellent horsepower gains of 21.8HP - with a plug-and-play tuning box
Cast sections ensure maximum flow and gorgeous fit and finish
True 76mm Throughout- Does not neck down to OE Sizing at catalyst discharge
76mm tubing replaces the restrictive 65mm factory tubing
Direct bolt-on fitment - no modification or bending of mount brackets required
100% 304 stainless steel pipe construction - lifetime of worry free performance
Thick cast turbo flange - ensures long gasket life and no leaks
High flow 200 cell catalytic converter - full power with reduced pollution and no exhaust smell
High quality metal matrix catalyst flows more than cheaper ceramic matrix cats
Tuned resonator - keeps highway drone to a minimum
Fully lined extra tough flex section will never collapse internally
Kit includes - Downpipes, midpipe, all mounting hardware (nuts, bolts, clamps, gaskets)
HIGH-FLOW CATALYTIC CONVERTER
IE's performance downpipe includes a high-flow 200 cell per inch metal matrix catalyst located as close to the turbo as possible. Metal matrix catalysts are higher performance because the matrix web is thinner, allowing higher flow in the same size. Our catalyst is also a very large diameter, allowing a large flow area and maximum power. By being placed close to the turbo, emissions and unwanted unpleasant smells are greatly reduced
DIRECT BOLT-ON DOWNPIPE WITH PERFECT FIT
The IE downpipe replaces over 6 feet of restrictive factory exhaust tubing, all the way back to the OE "Cat Back" rear section. Sturdy fabricated mounts and precise engineering result in a rattle free and long last replacement exhaust system. 3D scanning systems were employed to ensure perfect placement both in pre and post production phases.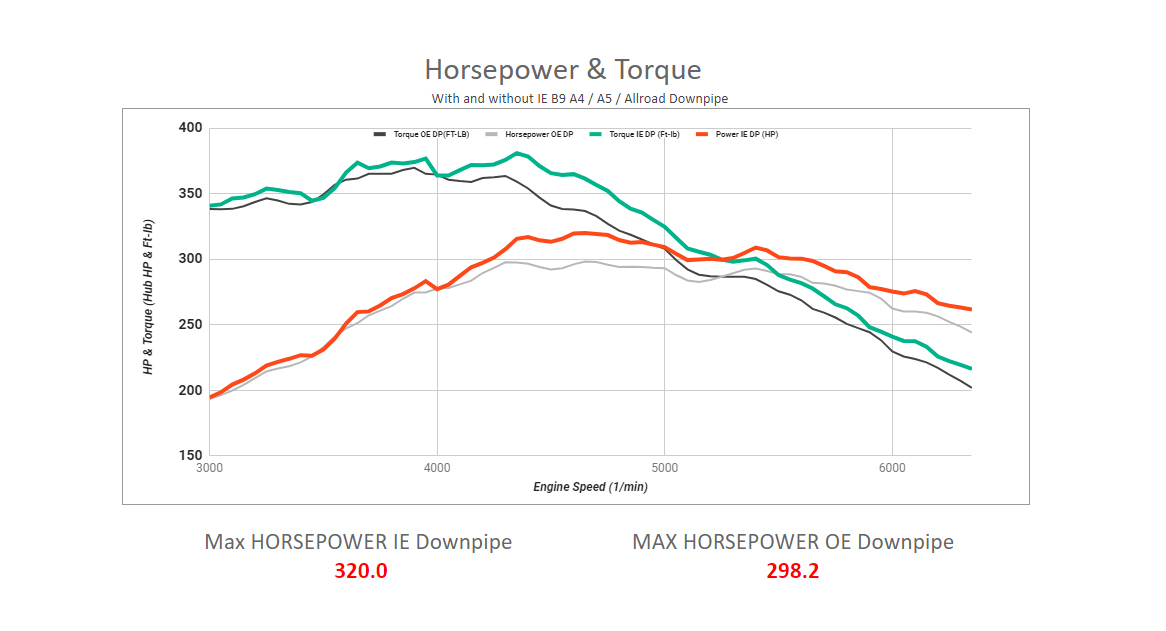 About Integrated Engineering: Merging decades of experience with hundreds of hours of prototyping, engineering, dyno testing and daily usage evaluation has output exhaust systems that are the ultimate compliment to your performance car. IE products are proudly engineered, designed, and manufactured in-house, in Salt Lake City USA.
⚠️CALIFORNIA WARNING: Cancer and Reproductive Harm - www.P65Warnings.ca.gov
---