Unitronic B8 | B8.5 Audi S4 | S5 | SQ5 Stage 2+ w/Pulley Kit |
UH004-BTA
---

Stage 2+ - 450 HP / 385 LB-TQ
( +117 HP / +60 LB-TQ )
Required Hardware

Unitronic Supercharger Pulley Upgrade Kit (included)

Recommended Hardware for 450 HP Level Power Gains

Upgraded Air Intake
Upgraded Exhaust System

Performance Software Precisely Engineered to Run on Performance Pulley equipped engine.
Ignition Timing Precisely Calibrated for 93 Octane Fuel
RPM Limiter Increase to 7200rpm for B8/8.5 6MT, 6800rpm for B8 DSG, and 6300rpm for B8.5 DSG.

Installation
Flashed directly through the (OBDII) Diagnostic port of your vehicle (10-15 minutes).

UniCONNECT+
This vehicle has added support through UniCONNECT+ which allows you to program your own vehicle right in your own garage.
Learn More

Features for all Stages
Engineered with Strict Industry Standards
Extensively Tested Under Various Driving Conditions
Factory Safety Limiters Retained
Greatest Power and Torque Gains in the Industry, Guaranteed!
Optimized Responsiveness and Drivability
Optimized Smoothness and Driving Comfort
Power Delivery Perfectly Optimized Throughout the Power Band
Improved Fuel Efficiency
Speed Governor Removed
Lower End Hesitation (Lag) Removed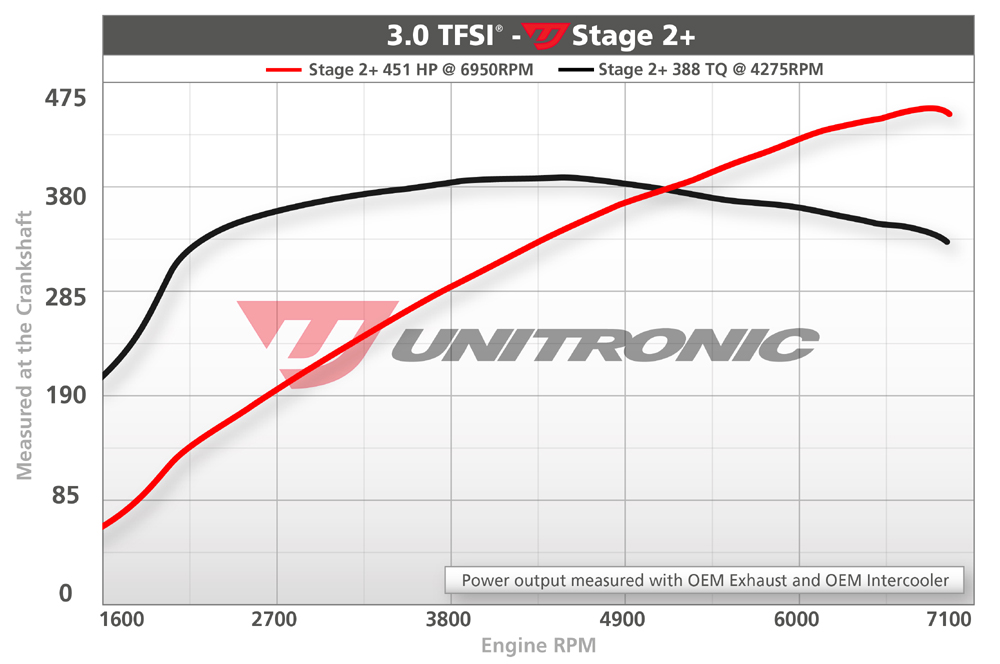 **LOCAL CUSTOMERS contact us for details on having your car tuned at our store. Call or Text 813-444-7021
Upgrade Policy: NOTE: This software is also available to be installed locally at the UroTuning facility in Tampa Florida. Call us to setup an appointment at 813-444-7021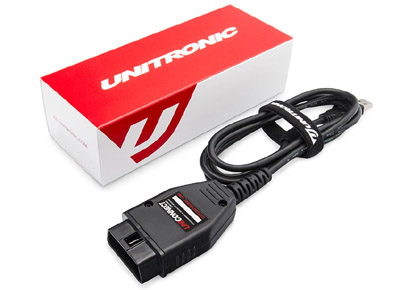 UniCONNECT+


Description
UniConnect+ is a Programming and Diagnostic Interface which gives users the freedom to reflash their Engine Control Unit (ECU) or Transmission Control Unit (TCU) from the comfort of their own garage. With the ability to upgrade the Unitronic Performance Software, flash back to stock, and also perform diagnostics, UniConnect+ is a complete end-user programming and diagnostic interface that provides control over your vehicle.

Availability
UniCONNECT+ is available for purchase through our Authorized Dealer Network and directly from Unitronic. UniCONNECT+ is compatible with most of 2010 and up vehicles.*
Simple Installation
UniCONNECT+ gives you the freedom to effortlessly install your Unitronic Performance ECU and DSG Software from the comfort ?of your own garage.*

Change Software Maps
Quickly and Easily re-flash your ECU with Performance Software maps designed and specifically calibrated to suite the hardware and fuel modifications or fuel grade used.

Data Logging
Gathering high resolution data is made easy with Unitronic's pre-configured channel loadouts for fast and effortless troubleshooting and data logging.**

Simple back to factory restauration
UniCONNECT+ makes it painless to revert your ECU back to it's stock calibration within minutes.*

Advanced Settings
Enable optional advanced settings such as Launch Control or No Lift Shifting within minutes. Enable Gear display in MFG for DSG Software owners.*

Technical Specifications
Minimum System Requirements:
Operating System: Microsoft Windows 10 Internet Explorer 11 Screen Resolution: 1024x768 Processor: 1.5 GHz or higher Memory (RAM): 4GB or more

For optimal application performance:
Operating System: Microsoft Windows 10 or higher Internet Explorer 11 or newer Screen Resolution: 1024x768 Processor: 2.0 GHz or higher Memory (RAM): 8GB or more

Internet access is required.

*Some exclusions apply. Only available for select engines. Contact Unitronic or a Unitronic Authorized Dealer for more information.

**Feature in development.

IMPORTANT NOTE! Uniconnect Cables are NON-REFUNDABLE. Once assigned to your car they cannot be returned!
Unitronic is a leader in Performance Software and Hardware for VW, Audi and Porsche. UroTuning is proud to be a top dealer for Unitronic offering their highly sought after tunes and premium quality performance parts. We literally Delivery the Power and offer Flash at home software with Unitronics Uniconnect Cables.



⚠️CALIFORNIA WARNING: Cancer and Reproductive Harm - www.P65Warnings.ca.gov
---