42 Draft VW Mk4 1.8T Turboback Exhaust System w/ 3" Downpipe |
EX0418TB
---
This is our Best Selling Turbo-back Exhaust system for the Mk4 1.8T!

If serious power gains and exquisite sound is what you're looking for; consider the search officially over. Our 1.8T turbo-back exhaust systems provide instant results: significant horsepower and torque gains, high performance sound, and worry-free fitment. More than just a pile of pipes, our turbo-back systems are precision fabricated from CNC machined flanges, CNC mandrel bent piping, Magnaflow mufflers, and mirror polished tips. The result of our meticulous metalworking is a heavy duty exhaust system that fits like it should and outperforms the competition.
Modular by design, our turbo-back systems are available in street configuration. Street series systems include a Magnaflow 200 cell catalytic converter. Six unique tip fitments allow our turbo-backs to fit any Mk4 1.8T.
Our 1.8T turbo-backs are technically a combination of our 3 downpipes and our 2.5 & 3 cat-backs. Repeating the features of our downpipes and cat-backs would only make a long story longer.
One feature our downpipes and cat-backs can't boast on their own is power gain. In our extensive testing we were able to dyno test a 'typical' mk4 and measure the changes. We used a relatively stock 2002 GTI 337 edition. The car was chipped, had a cold air intake and an aftermarket diverter valve. No other engine modifications were made to the car. Equipped with stock exhaust, we drove the car thoroughly and dyno tested it. The stock exhaust was swapped out for our 3 turbo-back system and the car was driven to adapt then dyno tested again. With weather conditions literally exact we measured peak gains of 22.5 hp and 48 lb/ft to the wheels! Power gains were felt all over. Boost was built faster and held out longer with the stock turbocharger. No power losses were felt at any point in the powerband.


Construction Highlights
CNC mandrel bent 14 gauge aluminized steel tubing
CNC machined 1018 cold roll steel flanges
Professional TIG welded construction throughout
Magnaflow resonator & muffler & catalytic converter
409 stainless steel 200 cell metal catalytic converter
Stainless steel braided flex section
304 stainless steel polished tips
Double layer graphite gaskets
Grade 5 locking hardware
Fitment Details
Fits 1999-2005 VW Mk4 Golf, Jetta, GTI 1.8T
Adjustable flanges allow for precise fitment on every vehicle
Available in street configuration
Tip Fitments

Our 2.5 slip fit cat-back is available with the choice of three tips, all with unique fitments for Jetta and GTI models. Fitment of each tip is specific to the rear valance on the vehicle and cannot be interchanged. Some tips are available in different styles. Fitments and styles are explained in detail below.

- Hidden tip systems offer a basic downturn tip, hidden from view. Exhaust gases are dumped before the start of the rear valance. Height and angle of the tip is designed to reduce drone and not melt the valance. The tip is exposed only 1/2 below the bottom of the valance. Hidden tips are aluminized steel and are not polished.
- GTI single tip systems feature a 4 tip designed to fit the 337/20th Anniversary Edition rear valance.
- Jetta single tip systems feature a 4 tip designed to fit the GLI single tip valance.
- GTI dual tip systems feature two 3 tips paired and positioned to fit within the factory cutout.
- Jetta dual tip systems feature two 3 tips paired and positioned to fit within the factory cutout.

Single tips and dual tips are available in two styles - single wall and double wall. Single wall tips are constructed from a single 3 tube. Each tip is angle cut and welded to a press-formed expansion. Double wall tips are constructed from two tubes - an inner barrel and an outer barrel. The inner barrel is angle cut and press-formed to precisely meet the angle cut 3 outer barrel. Both tip styles are highly polished inside and polished to a mirror finish outside. Tip options are offered to suit the style of every enthusiast. To learn more about our exhaust tips check out our Product Spotlight: Single Wall vs. Double Wall Tips.

Tip fitments are semi-permanent in our exhaust systems. In order to change the tip later down the road you will need to swap out the rear muffler section. Please contact us directly for pricing in the event of a tip change. Please try to ignore anyone who says just take it to a muffler shop and have them weld on a new one. It's not that simple. The muffler and hanger is in the same location on all systems, but the tip itself and the pipe in-between differ greatly. Simply cutting one tip off and welding on a different one won't result in a system that meets our quality standards. Contact us.

Our tip fitments are very specific. Here are a few specific tip scenarios we would like to mention:

- Our dual tips will not fit under a non-cutout valance
- Our single tips will not fit under a dual tip cutout valance
- Our hidden tip is hidden, unless installed behind a cutout valance
- GTI systems will not fit Jetta's
- Jetta systems will not fit GTI's
Non-Resonated System
We do not offer our cat-backs in a non-resonated configuration. Long term testing proved to us that a non-resonated 2.5 system is not a product we would like to put our name on. It doesn't sound great. It sounds raw and perhaps a bit 'import.' Our resonator does not affect the flow of the exhaust system in any way. It cleans up the sound of the motor and plays a major part in the high quality sound of our exhaust. For this reason, we do not offer a non-resonated configuration.
Motor Mounts Recommended
We highly recommend upgrading your dogbone motor mounts when using our cat-back exhaust system. Worn out factory bushings cause excessive engine movement. Engine movement translates directly into the exhaust system - flex section or not. If your engine is slinging back and forth so is your exhaust. This means rattles, panic, and worry. Our system is designed to be used on lowered cars with motor mounts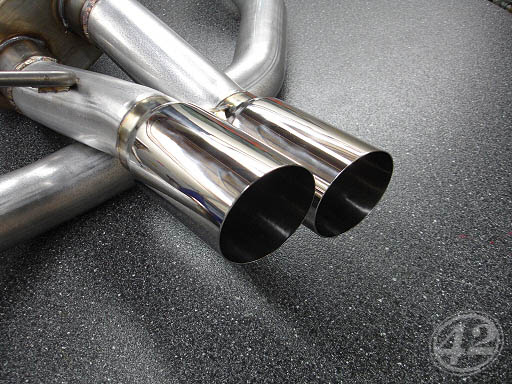 Dual Tips with Single Wall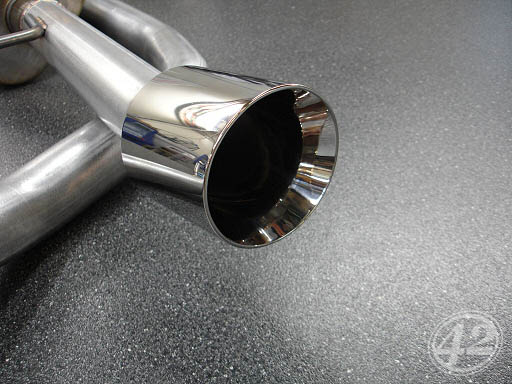 Single Tip with Double Wall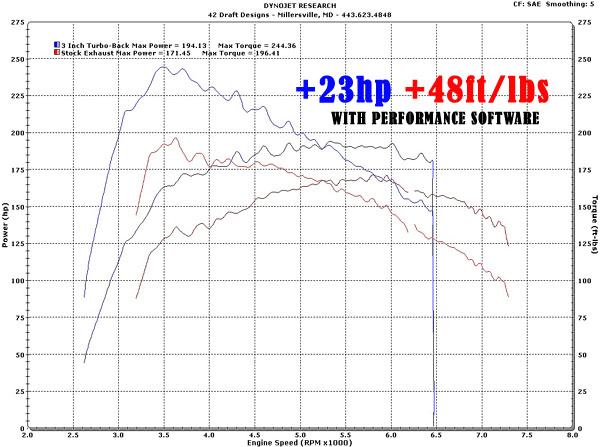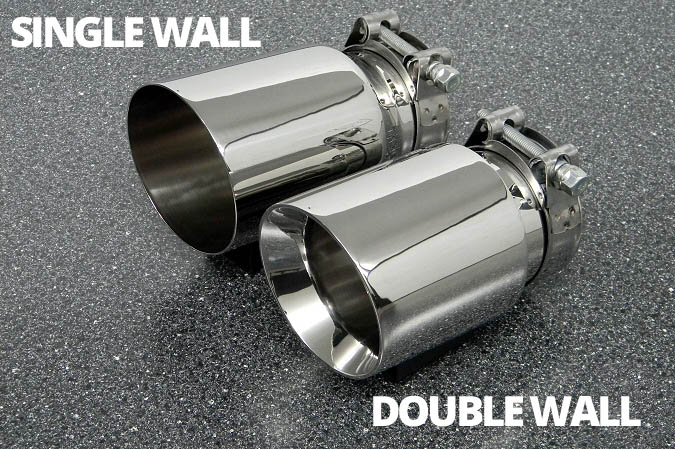 42 Draft Design is a manufacturer of high performance parts and accessories for VW, Audi, Porsche, and BMW vehicles. From exhaust and intakes to custom catch cans and billet aluminum engine parts, 42 Draft Designs covers it all and prides themselves on never cutting corners, always delivering the best possible products to enthusiasts.
42 Draft Designs products are manufactured from scratch in Millersville, MD. We use high-quality American-made materials throughout our products, manufacturing in-house every component possible. When necessary to outsource, we start with American companies that manufacture their products in the USA. Our modest manufacturing facility is staffed by a team of 12 machinists, metal fabricators, and TIG welders trained to work in exacting precision. From design to manufacturing we never rush, cut corners, or take shortcuts.
Due to growing demand for our products, lead times may exist.
Most items with a lead time are considered 'Made To Order' items and are subject to an early cancelation fee and a restocking fee if returned.



⚠️CALIFORNIA WARNING: Cancer and Reproductive Harm - www.P65Warnings.ca.gov
---