In the quest to create the most well balanced suspension for the 997 Turbo, Agency Power has developed these sway bars to our specifications. The all wheel drive Porsche turbo cars naturally have a lot of under steer. Under steer is when you take a turn but your car keeps going outwards. With an AWD car, getting the rear end around can be easily done with a larger sway bar. However you do not want to induce to much over steer as then you will be throttle steering or sent into a drift. With the combination of a properly balanced front and rear sway bar, your car will handle turns much more neutrally and quickly. The sway bars are designed to stiffen up the chassis as well to reduce body roll. Some times called "anti roll bars" sway bars help keep the chassis flat through the turns. In combination with a good set of springs or coilovers, you will greatly improve your handling of your Porsche 997 Turbo.
The Agency Power sway bars are made in the USA from high strength steel. The adjustability holes have been engineered to not overload the sway bar links causing them to break. The solid sway bars feature 3 way adjustable ends for maximum adjustability for under and over steer. All of our sway bars feature urethane bushings to fit in the stock bracket for an OEM fit. The sway bars are finished in a white powder coat like our other sway bars to stand out in front of the competition. The rear bar is a 24mm solid 3 way adjustable unit which is a very complex design featuring 12 bends. Stock sway bar is 23mm and a tube design. These sway bars are over 50% stiffer then stock. Perfect design and setup for those wanting a great handling street car with high speed track performance.
Fitment:
Sway bars fit the 2007 and up Porsche 997 Turbo.
All Agency Power products come with a LIMITED LIFETIME warranty when you fill out this form
HERE
.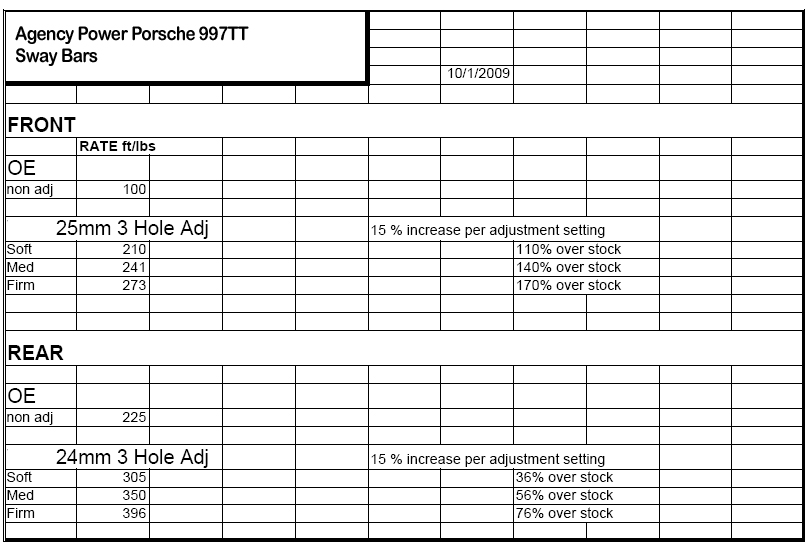 ---