One of the most important upgrades for the Porsche 996TT, 997.2TT, 991TT, Cayenne Turbo or Panamera Turbo is to replace the factory Bosch diverter valves. The factory valves are prone to leaking pressure under increased boost when the car has an upgraded ECU flash. As well, the factory Bosch valves will taper boost off with the diaphragm design even at stock boost levels. To help keep the boost pressure constant all the way to redline, upgrading the stock diverter valves to the Agency Power Racing Diverter Valve Kit will improve your cars overall performance.
These valves are CNC machined 6061 aluminum which have been precision engineered to fit with the stock or aftermarket F-Hose and intake return hoses. The internal construction of the valve uses a machined piston with proper o-rings to ensure a smooth motion that is air tight to prevent any boost leaks. The spring has been engineered to hold moderate to aggressive boost increases on the 996TT, Cayenne TT and Panamera TT vehicles. The valves feature a 90 degree removable swivel connection for easy fitting with the factory vacuum hose. If needed, the top of the valve unscrews allowing you to re-greased and service the valve. Valves are available in black or polished finish and feature the Agency Power text and logo laser engraved on the top. As tested, these valves are a great upgrade for stock K16 or K24 cars and have even been used in our 700HP turbo kits.
The valves fit all 2001-2005 Porsche 996 Turbo, 2004-2007 Cayenne Turbo, 997.2TT and 10 Porsche Panamera Turbo.
Features:
CNC machined 6061 Aluminum Construction
Helps Maintain Constant Boost Pressure
90 degree removable swivel connection for easy fitting
Sold as Pair
Available in black or polished Finish
Notes:
All Agency Power products come with a LIMITED LIFETIME warranty when you fill out this form HERE.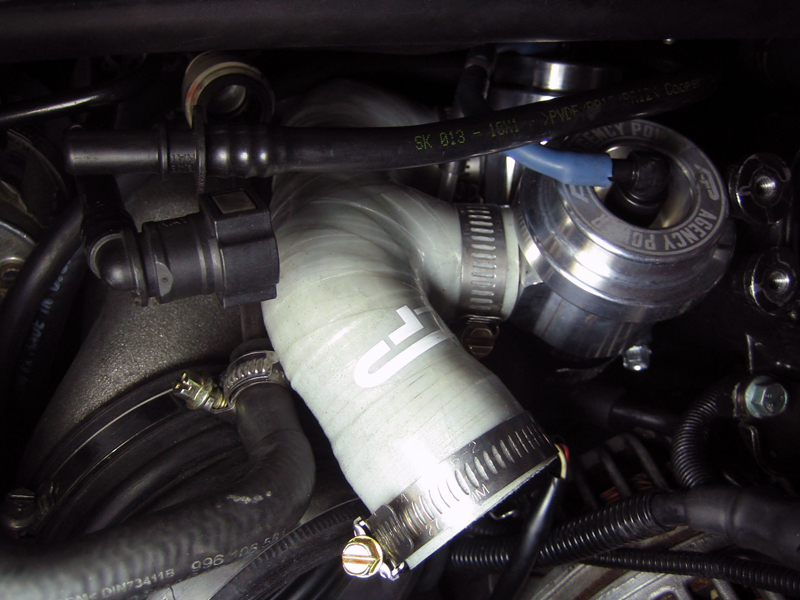 ---