The factory Motorsports rear roll cage for the Porsche 991 GT3 | GT3RS is nearly impossible to acquire. If you did not order it with your GT3RS, it cannot be purchased separately. There are options out there to equip your GT3 or GT3RS with a rear roll bar or harness bar. However, these are not the same as the factory installed option. What the race drivers brain can't have, they want even more!
Agency Power has been manufacturing rear roll bar and harness bars for Porsche cars since 2009. Our popular applications for the 996 | 997 platform as well as the 991 Carrera and Turbo platform have been sold worldwide. In addition to our new Porsche 981 harness bar, we wanted to further our product offering with a true track racing focused product. To give Porsche owners the best solution available for the 991 GT3 and GT3RS, Agency Power acquired one of these unobtainum Motorsports roll cages. Instead of redesigning the product like others, we replicated what the people demanded! This roll bar has been mimicked down to the T?compared to the factory Motorsports part.
Porsche roll bars are also known as Harness Bars. With obvious safety and structural rigidity implemented into the design, the main focus for this bar is to connect your harnesses. Racing harnesses keep you secure in your seat for track days so you can focus on delicate steering wheel control and not sliding around in your seat. Like the factory bar, it is designed to mount to the rear upper shock tower mounts.? This is the safest and strongest mounting point for the vehicle. The steel mounting plates provide a direct rigid contact to the frame. The front mounting position is located just behind the front seats on the floor board. The factory GT3 carpet has a cut out to mount this main hoop without additional modifications. The entire bar is made from 4130 chromoly tube and features CNC machined 1018 rolled steel inserts. The chromoly material is comprised of 2 inch .090 wall and 1.5 inch .090 wall diameter tube. Like the factory Motorsports cage, it features triangulated gusset supports on the main hoop. Each CNC machined insert is designed to incorporate the easily obtainable front Motorsports roll cage section (sold separately and pictured for reference). These inserts connect to the 4 roof points and 2 door bar points on either side of the vehicle. The entire Agency Power roll bar has been TIG welded off a precision JIG here in Arizona, USA. The rear section weighs 63lbs.
The roll bars are sold in the raw chromoly finish as pictured so owners can custom paint them to their liking. We do offer the bars to be powder coated for an additional charge.
Features:
Replica of factory Motorsports rear roll bar
Chromoly tubing with precision TIG welding
Meets safety standards for harness mounting
Will work with the factory front roll cage (sold separately)
Fitment:
Porsche 991 GT3 | GT3RS
May fit Porsche 991 Carrera | Turbo with carpet and seat modifications
Will not work with 991 GT2RS
Notes:
All Agency Power products come with a LIMITED LIFETIME warranty when you fill out this form HERE.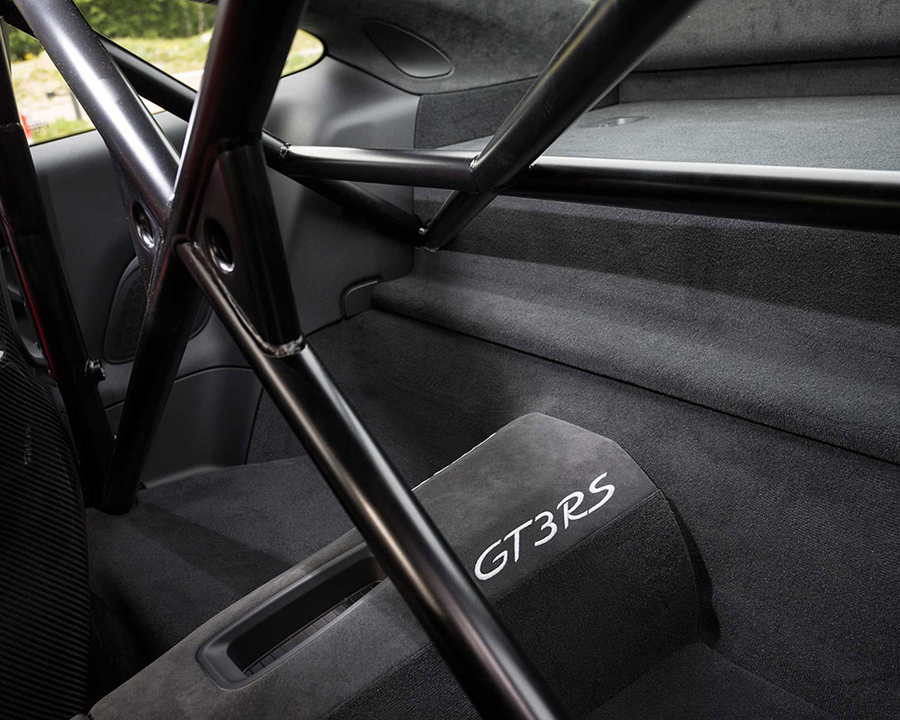 ---
Part# AP-991GT3RS-500 is NO LONGER AVAILABLE!
SHOP REPLACEMENT PART
---