The Porsche GT3 is essentially a race car out of the box. Prepped with fully adjustable, lightweight sway bars, coilovers, weight reduction, and some sticky tires, it is basically ready to rock. But like every Porsche, there is room for improvement. Driving the GT3 is extremely fun with its high revving power band. However like other Porsche cars, it just does not have that aggressive sports car sound. Especially one for a car that is suppose to be a "race" car. Agency Power developed this center muffler exhaust kit which is a direct replacement for the factory muffler. Able to use the stock or aftermarket tips, the muffler delete features precision mandrel bent tubes, stainless steel construction, and perfection TIG welding. As well, this part is Made in the USA. Comparing the stock exhaust and tip to our Agency Power exhaust and titanium tip, our system saved another 4.4lbs off the rear end of the vehicle.
As tested on a 2014 Porsche GT3RS, the exhaust tone is slightly improved without droning out your street driving. Because the Sport Valves still operate, when Sport Mode is activated, the exhaust bypasses the secondary mufflers to give you a even more aggressive tone. As tested on the dyno, the exhaust does help gain some mid range power. However with the highly tweaked GT3 engine, the benefit of weight savings and sound is where this Agency Power product is worth its cost!
Fitment:

This muffler delete fits all 2014-2016 Porsche GT3, GT3RS and GT3RS 4.0.
Notes:
All Agency Power products come with a LIMITED LIFETIME warranty when you fill out this form HERE.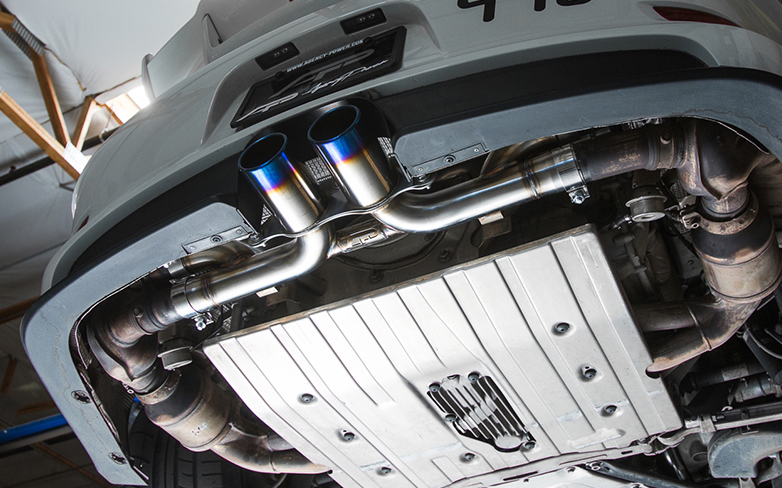 ---