Agency Power has developed a new cold air intake kit for the V8 Porsche Cayenne. Dubbed "The Stealth" system, the Agency Power cold air intake adds power to your Cayenne S or GTS from 04-07. The intake kit is designed to replace the entire factory airbox from the MAF tubes to the filter. Each intake tube is hand made HERE in the USA using precision jigs with 6061 aluminum that is TIG welded. The intake tubes attach to the factory MAF sensor with the supplied silicone coupler. Each intake tube features a custom spec'd K&N cone filter with front inlet to draw air in from the OEM ducting. Because of the close proximity to the engine, we also include OEM mounted heat shields that securely connect the intake tubes to the chassis. These heat shields allow the retention of the OEM plastic trim to be remounted and the intake not to be visible.
Specs/Benefits:
The cold air intake kit allows for an increase of horsepower and torque across the RPM band of the V8 engine. Our dyno test shows a consistent gain of about 16hp and torque on our Mustang AWD dyno with 91 octane. The intake performance is more noticeable under street driving conditions. The throttle response of the generally sluggish V8 in the lower RPMs picks up much faster. Through the midrange, the intake helps the Cayenne pull harder to the next gear. ECU tuning is not required with this intake kit. All Agency Power Porsche Cayenne Intake Kits are a direct replacement and do not require modification to the OEM equipment.
The kit includes:
2 filters, 2 intake tubes, 2 silicone couplers, 2 heat shields with hardware. Approximate installation time is about 2 hours. All intakes are finished in a wrinkled black powdercoat for durability and to maintain the "Stealth" appearance.
The intake fits all Porsche Cayenne S and GTS V8 cars from 04-07.
All Agency Power products come with a LIMITED LIFETIME warranty when you fill out this form
HERE
.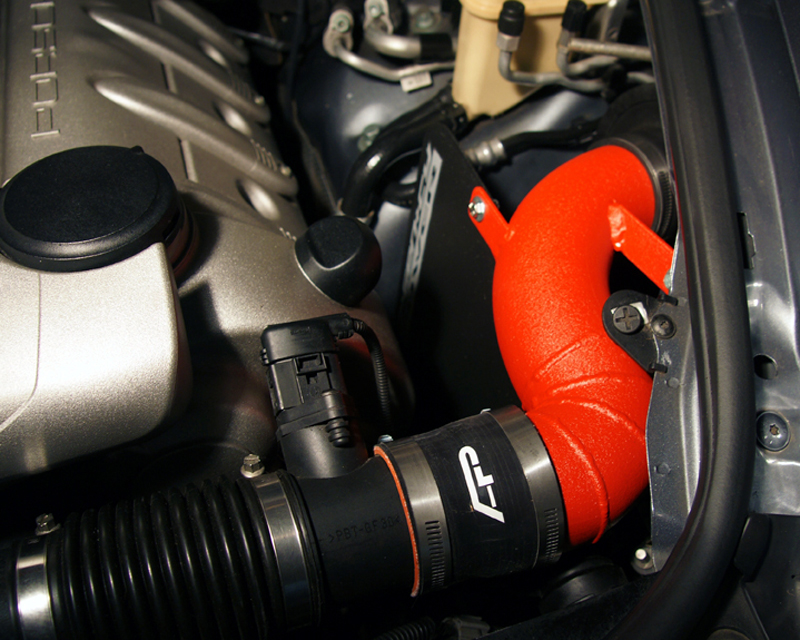 ---
Part# AP-955-110WB is NO LONGER AVAILABLE!
SHOP REPLACEMENT PART
---