Air Lift / Accuair SwitchSpeed Analog Controls

The SwitchSpeed Controller offers all of the standard functions that you've come to expect from a traditional switchbox, but that is where the similarities stop. AccuAir's proprietary Advanced Burst-Control-Technology allows you to choose between three different modes of adjustment: Precise, Moderate and Full Speed. The burst speeds for each of these modes are user-tunable to achieve improved precision from even the largest valves on the market. Although the SwitchSpeed does not offer preset heights like the e-Level controller, it can easily be upgraded to the e-Level system down the road. The SwitchSpeed to e-Level Upgrade Kit is designed to get you upgraded as quickly as possible with minimal downtime for your system.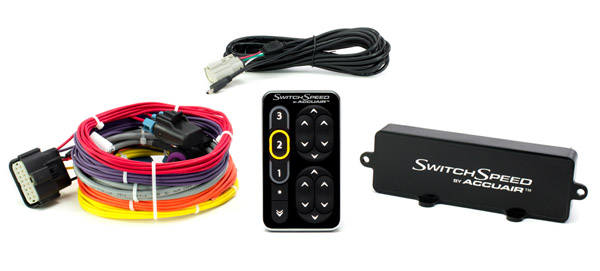 SWITCHSPEED AIR MANAGEMENT
Hand held or mountable, the SwitchSpeed Controller is available in black-anodized or nickel-plated aluminum and gives full manual control over each air spring individually as well as front and rear air spring control in pairs. Saving and accessing your three preset speeds is only a touch away and a yellow glowing ring around each button clearly indicates the current valve speed. The All-Down button fully deflates the vehicle for parking at your currently selected speed. Every button on the SwitchSpeed Controller offers a crisp tactile feel and is backlit with crystal white LEDs for clear daytime and nighttime operation. A 20-ft mini-USB cable provides communication to the ECU and plugs into the controller in either the bottom or the rear. The SwitchSpeed Controller comes with a built-in compressor control feature that is enabled once the optional tank pressure sensor is plugged in.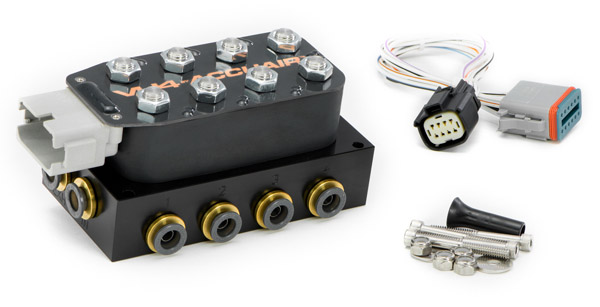 VU4 4-CORNER VALVE UNIT
The VU4 4-Corner Valve Unit is engineered to provide the cleanest installation and most reliable operation on the market. This electronic solenoid valve unit inflates and deflates up to (4) individual Air Springs and has built-in push-to-connect 3/8 D.O.T. approved air fittings for all of its plumbing connections. The robust internal solenoid valve architecture maximizes flow rates, provides bubble-tight sealing, and guarantees operation up to 200 psi for millions of cycles. All of this technology is housed in a unique enclosure design which routes each of the solenoid wires to a single weatherproof connector, eliminating typically loose wires. This not only improves the appearance, but it also guarantees proper operation for every installation. With an overall size of only 5"x 3"x 3" and the ability to survive harsh under vehicle environments, this product is ideal for any application.

AccuAir SwitchSpeed with TouchPad Key Features
(3) User Definable Valve Speeds

Easy All Down Functionality

Manual Control Mode for each bag (individually or front/rear pairs)

Battery Voltage Monitoring **w/optional digital sensor

User Definable Compressor ON/OFF Pressure Cutoff (150psi, 175psi, 200psi)**

Easily Upgradable to AccuAir TouchPad e-Level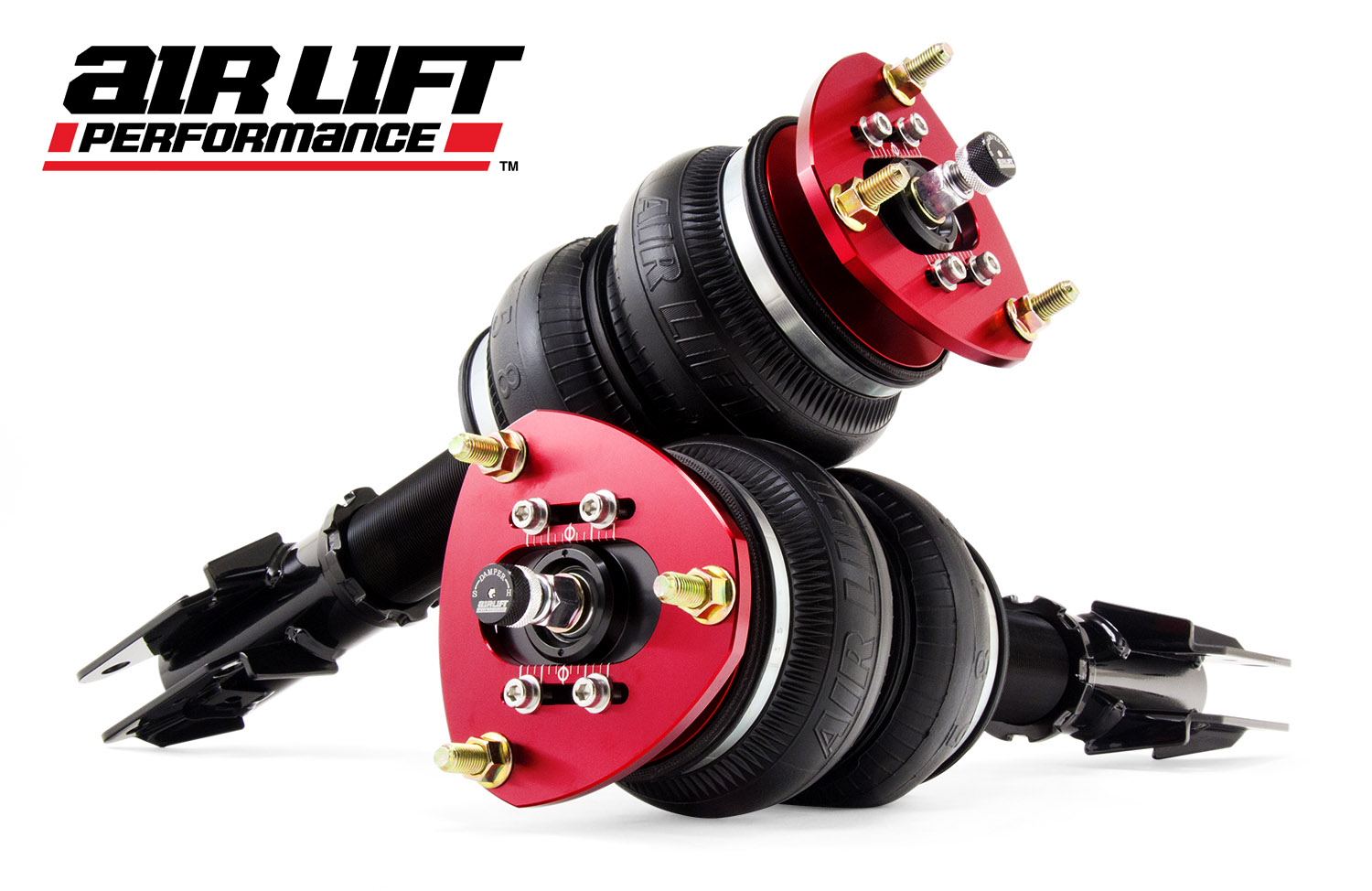 AIR LIFT SUSPENSION

Get the stance you want and the performance you need with Air Lifts air suspension kits! Every kit we offer is fully engineered to properly fit your vehicle, provide unmatched static drop, and deliver ride and handling capability that exceeds factory suspensions. No other lowering suspension provides a more versatile package for daily use.

PERFORMANCE SERIES KITS
Performance Series air suspension kits are the ultimate suspension choice for your ride. All applications feature lightweight monotube shocks/struts with 30-level adjustable damping. Adjustable camber plates are integrated into the struts top for perfect alignment or wheel fitment and are engineered with high quality spherical bearing upper mounts, providing instant damper response and precise steering feel.

Another great feature is that the Performance Series shocks/struts have threaded bodies with adjustable mounts; this allows you to alter the factory set heights to better suit your situation without sacrificing suspension travel. As with the Slam Series kits, Air Lift Performance provides everything needed for easy installation. And while everyone loves the way their car looks laid out on the ground, these Performance Series kits are best enjoyed while in motion! The huge range of damping, mated with our progressive rate air springs, allows you to have a comfortable ride on the highway. And with the twist of the damping knob, you have a track-ready suspension poised to cut a fast lap.

Everything about the Performance Series kits is geared towards maximizing your vehicles suspension: lowest drop, best ride, lowest weight, most adjustability, and incredible handling. All proven on racetracks and back roads around the world.


KIT CONTENTS
AccuAir SwitchSpeed System
SwitchSpeed Controller
SwitchSpeed ECU
ECU to VU4 Harness
ECU Mounting Hardware
Wiring Harness with built-in Fuse Holders (fuses included)
20ft mini-USB Controller Cable
Open-ended Valve Wiring Harness (for use with other manufacturers valves)
AccuAir VU4 Manifold
AirLift Front Suspension
AirLift Rear Suspension
Aluminum Air Tank of your choice
Tank Fitting Pack
Compressor(s) of your choice
110-145psi Pressure Switch
40amp Relay(s) for your compressor(s)
Relay Wiring Kit(s)
Inflation Valve
Air Line Cutter Tool
(1) 60ft Bundle of DOT Approved Air Line**
** By choosing 1/4 air line you will receive (6) Plug In Reducers
MODEL FITMENT
BMW 2 Series F22 Coupe (2015+ AWD & RWD)
BMW 2 Series F23 Convertible (2015+ AWD & RWD)
BMW 3 Series F30 Sedan (2012+)
BMW 3 Series F31 Wagon (2012+)
BMW 3 Series F30 Sedan AWD (2012+)
BMW 3 Series F31 Wagon AWD (2012+)
BMW 3 Series F34 GT Hatchback AWD (2014+)
BMW 4 Series F32 Coupe (2014+)
BMW 4 Series F33 Convertible (2014+)
BMW 4 Series F36 Gran Coupe (2014+)
BMW 4 Series F36 Gran Coupe AWD (2014+)
Note: Fits AWD and RWD models with a 3 bolt front upper mount Only!
**PICTURES SHOWN NOT ACTUAL PARTS!