The Hardware Kit features the following components: 

-Precision Cast High Flow Turbo Manifold with GT28RS flange pattern.
-Garrett Dual Ball Bearing GT28RS Turbocharger assembly.
-Internal wastegate assembly with high psi base spring actuator.
-3.00" V-band Discharge Module.
-3.00" Stainless V-band downpipe assembly.
-Custom CNC machined oil inlet/outlet fittings with oil control.
-Steel braided oil feed and return line assemblies.
-Custom CNC machined coolant fittings with AN style discharge/return.
-Steel braided, pre-assembled coolant line assemblies with - All hardware and comprehensive installation diagram.
Important Notes: This kit does not include Software/ECU Modifications or any fueling methods. A front mounted intercooler kit is highly recommended. If using kit with stock mounted intercooler, minor fabrication of the short section of pipe out of the turbo compressor discharge is required.


This kit deletes most emissions related devices such as:
- Crankcase breather recirculation (Breather filter or catch can used)
- Atmospheric BOV - (ATP BOV w/Anti-stall option recommended)
- Secondary air injection pump
- Stock cat (replaced by 3" highflow stainless downpipe)
* Drop-in replacement 3" cat will be available to swap out with 3" downpipe @ v-band connection

ATP will continue to provide a limited amount of special tunes for certain ECU codes, but these software requests should be made separately and independently of the sale of these hardware kits. Based upon feedback received from our customers in the recent months, this hardware needed to be offered separately in order to allow our customers to explore the various boost/fueling/tuning combinations.

Additional Notes:
Based upon the test data and the way we have seen this turbo combination respond on the longitudinal 1.8T engine, we believe that the 1.8T power plant with this combination will be VERY competitive in the year 2004. For people who crave HP levels up to the 350 range and are very sensitive to the "lag", this is the answer to the desire for "Big HP with Quick Spool."

With a good exhaust system, 300 whp can be done on modest boost levels and pump gas.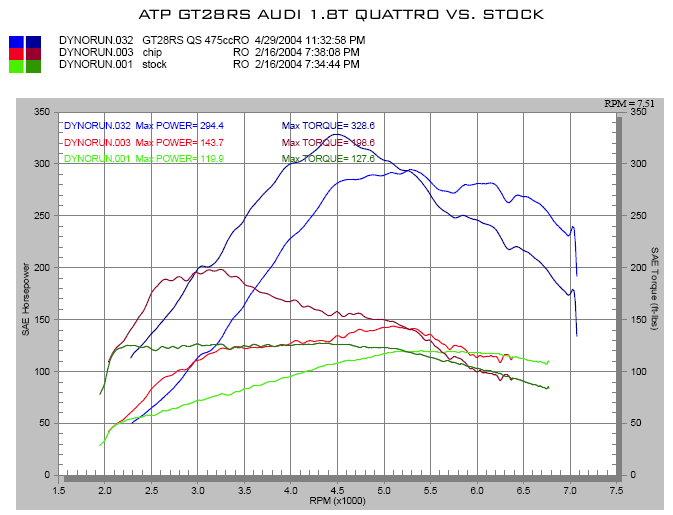 PLEASE NOTE: The 3" MAF housing shown is no longer sold and is longer included in this kit. You should use the specific MAF housing that is called out by the ECU Tune that you are using (eg. VR6 MAF for a 550cc injector tune).



For further inquires please reach out to our sales team sales@urotuning.com




---
Part# ATP-VVW-124 is NO LONGER AVAILABLE!
SHOP REPLACEMENT PART
---