Stage 1 - +45 HP / +70 FT LB-TQ
Performance Software Precisely Engineered to Run on a Completely Stock Car.
For 91 octane fuel
Stage 1.5 - +60 HP / +88 FT LB-TQ
Stage 1.5 - +71 HP / +100 FT LB-TQ
Stage 2 - +96 HP / +123 FT LB-TQ
Stage 2 - +102 HP / +136 FT LB-TQ
Required Hardware for Stage 2
Recommended Hardware

Cold Air Intake or Short Ram
Cat Back Exhaust System

Ignition Timing Precisely Calibrated for 93 Octane Fuel
Precisely Calibrated for an Upgraded Exhaust System
Optimized for a High Flow Catalytic Converter
Installation
Flashed directly through the (OBDII) Diagnostic port of your vehicle (~30 minutes).
Powertap Flash Tool
This vehicle has added support through the Powertap Flash Tool which allows you to program your own vehicle right in your own garage.
Features for all Stages
Engineered with Strict Industry Standards
Extensively Tested Under Various Driving Conditions
Factory Safety Limiters Retained
Greatest Power and Torque Gains in the Industry, Guaranteed!
Optimized Responsiveness and Drivability
Optimized Smoothness and Driving Comfort
Power Delivery Perfectly Optimized Throughout the Power Band
Improved Fuel Efficiency
Speed Governor Removed
Lower End Hesitation (Lag) Removed
NOTE:
This same car has run a best quarter mile of 11.95 @ 114.1 on the stage 1.5 93 octane file, with no modifications besides the reflash.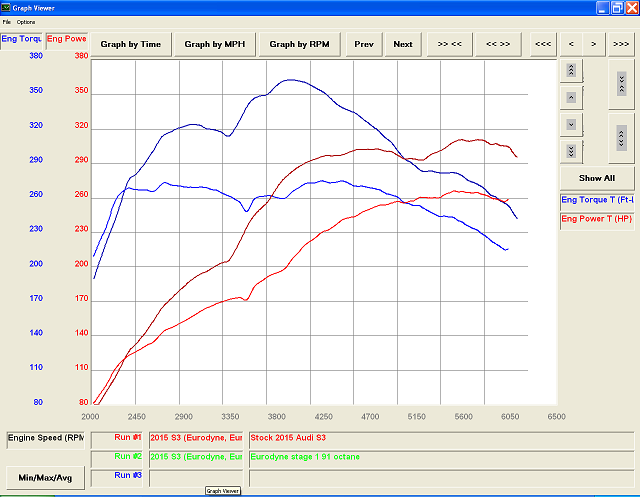 **LOCAL CUSTOMERS contact us for details on having your car tuned at our store. Call or Text 813-444-7021

NOTE: This software is also available to be installed locally at the UroTuning facility in Tampa Florida . Call us to setup an appointment at 813-444-7021
Upgrade Policy: Once you have purchased the reflash, you can switch between available file versions including stock software for no additional charge from Eurodyne. The included flash software will allow you to perform data-logging and supports some diagnostic functions such as clearing fault codes and the ability to scan and recode other modules in the vehicle.

Powertap Flash Cable

Description

This package will allow anyone with a Windows PC or tablet with USB port, and an internet connection to flash their ecu with our stage 1 or stage 2 software.

With the included Powertap interface and Eurodyne flash software you can switch between available stages and even flash the ecu back to stock if necessary.

Also included is diagnostic software that will allow you to check and clear fault codes, and datalog engine parameters.

Certain models support recoding of some modules as well. See the applicable stage 1 and stage 2 software product pages for details on power increases for your model.

We support port flashing for all models now, no ecu removal is required.

Screenshots for datalogging vary depending on the model. Due to the large number of different ecu codes, there may be a delay in adding support for new or rare software versions.
⚠️CALIFORNIA WARNING: Cancer and Reproductive Harm - www.P65Warnings.ca.gov
---