FEATURES
Complete discounted stage 2 kit - Buy together and save
Includes all hardware & software needed for stage 2 - No guesswork
Massive power and torque gains - Maximize your turbo output
Install & tune from home - Gain 65 horsepower in your driveway
Includes IE Stage 2 Tune - Complements IE's solid hardware
Includes IE Performance Intercooler - With IE FDS Technology
Includes IE 3" Catted Downpipe - Performance and sound
Includes IE Cold Air Intake - With massive 5" velocity stack
Go straight to stage 2 power - Skip the slow stuff
MK5 FSI STAGE 2 KIT OVERVIEW
This complete MK5 GTI Stage 2 kit offers a complete all-inclusive power upgrade by combining IE's top of the line performance hardware with the matching Stage 2 motorsport-inspired ECU tune. You will enjoy track-ready performance while retaining factory comfort and reliability. At the core of this kit is the IE PowerLink cable, providing an easy interface to upload your new tune and maximize the performance of your 2.0T GTI. To take full advantage of the increased boost, airflow is increased with an IE 3" downpipe and IE Cold Air Intake. Air inlet temperatures are kept low and heat soak at bay with the industry-leading FDS intercooler system. These modifications combine and release the true monster hidden in your bay.
POWER GAINS
Installing the complete IE Stage 2 Kit delivers massive power gains across the powerband, fully realizing the engine and stock turbocharger potential with typical power gains around +55-65HP & 80-90TQ (ft-lbs) over stock.
*Power figures were measured at the hub performed on a hub dynamometer, power figures are taken from multiple vehicles. Power gains may differ from advertised as individual vehicles will vary in maintenance, mileage, and conditions. HP=horsepower, TQ= Torque ft-lbs.
MK5 2.0T FSI ENGINE KIT
This kit includes software and hardware for VW MK5 chassis with the EA113 2.0T FSI timing belt engine only. For later model MK5 chassis with the EA888 Gen 1/2 2.0T TSI timing chain engine, please refer to IE MK5 GTI Stage 2 Kit for TSI engines (IE Part Number: IEPPCBC2).
INCLUDED IN KIT:
IE Stage 2 Tune
The IE Stage 2 MK5 GTI performance tune is designed to maximize the performance of the factory engine and turbocharger. Fine tuning the ECU calibration to match installed aftermarket hardware, IE Stage 2 delivers massive power gains across the powerband. IE engineers have fully optimized every aspect of the factory ECU maps along with removed speed limiter, increased rev limit, improved throttle response, optimized fueling and more. This produces a tune that retains all factory like driving and safety protocols when needed, and intense power when you put the pedal down.
IE PowerLink Tool
The IE PowerLink Flash Tool allows you to quickly upload your tune from your own garage or driveway. This OBD plug-in device is easy to use with a Windows 7 and newer laptop and WiFi connection. Your new tool also includes the abilities to switch between multiple octane files (available separately), reading and clearing diagnostic codes, upgrading Stages, or flashing back to stock at any time.
IE 3" Catted Downpipe
Power you can feel and hear! The IE 3" catted downpipe frees the turbocharger of its factory exhaust restrictions allowing it to make the additional horsepower, torque, and responsiveness. Careful tuning of the new harmonics delivers an aggressive exhaust noise while minimizing cabin drone. All IE exhaust systems are designed in-house using state of the art digital scanning for a perfect fit and manufactured from 1.5mm thick wall 304 stainless steel offering a lifetime of performance and fun.
IE Cold Air Intake
IE's direct-fit high-flow air Intake is included to supply cold air directly to the turbocharger via generously-sized inlet pipe and massive 5" velocity stack. The velocity stack is neatly housed in a heat shield, which separates the air filter from the hot under-hood air, allowing only cold air directly from the front of the car.
IE FDS Intercooler
When increasing the power output of your engine to Stage 2 or beyond, it is critical to ensure proper charge air cooling, reducing power robbing and dangerous heat soak. The included direct-fit IE intercooler packs a very large core into the space available, a full 54% larger stock. To utilize this massive core, our engineers developed a row of FDS (Flow Distribution System) fins cast into the end tank that forces intake air to take full advantage of the large core. This system, completely unique to IE, has proven to offer the lowest intake air temps, pressure drop, and most performance on the market.
DO YOU NEED A SECONDARY AIR INJECTION (SAI) KIT?
The MK5/MK6 2.0T TSI engine has two different engine codes. CBFA engine codes are equipped from the factory with a secondary air injection (SAI) pump that connects to the factory intake box. These engines will require a small breather filter for this SAI line when installing an aftermarket intake. CCTA engine codes do not have this SAI pump and do not require this filter. Identify your engine code using the photos below and choose the correct option in the drop down box above when ordering your intake.
FITMENT:
VW - GTI 2006-2009 (MK5) 2.0T FSI (EA113 timing belt driven engine)
VW - Jetta & Jetta GLI 2006-2010 (MK5) 2.0T FSI (EA113 timing belt driven engine)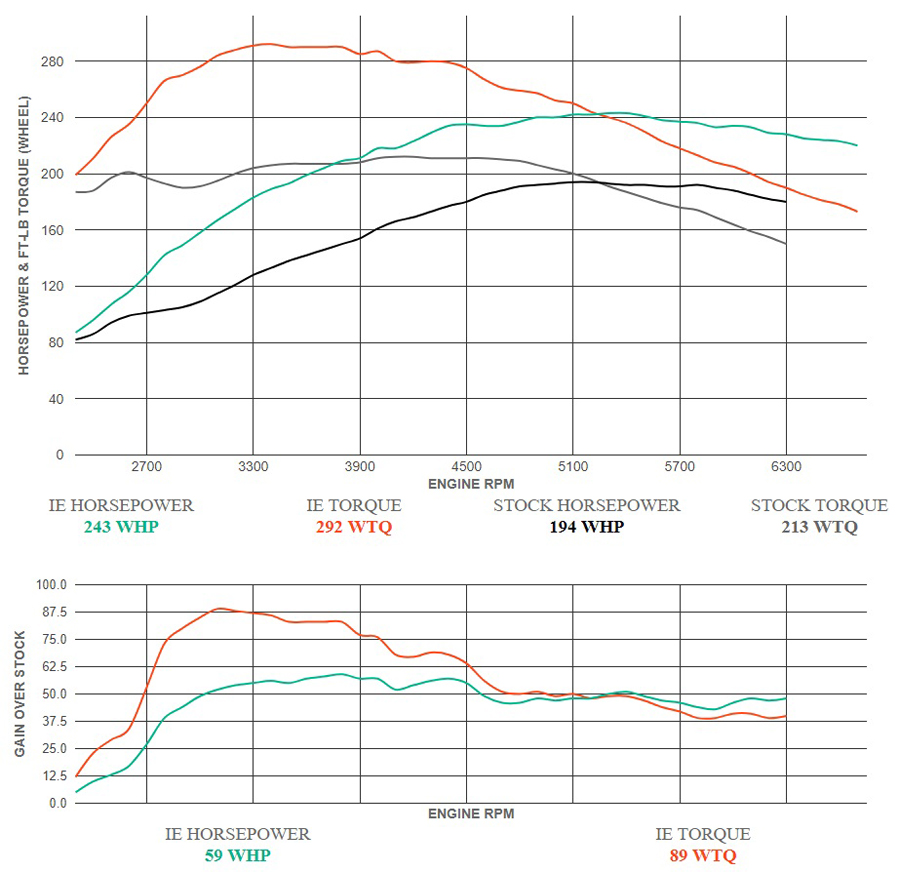 About Integrated Engineering: Merging decades of experience with hundreds of hours of prototyping, engineering, dyno testing and daily usage evaluation has output exhaust systems that are the ultimate compliment to your performance car. IE products are proudly engineered, designed, and manufactured in-house, in Salt Lake City USA.
---