"Our Spec Boxster Exhaust System was designed with the racer in mind." States Ron Mangus, AWE Tuning's Manager of Fabrication, "Weight savings, power gains, durability and versatility were all looked at with a critical eye. This will be the only exhaust a Spec Boxster owner will ever need to purchase."
System Highlights:
Designed and tested on a winning car
Features exclusive AWE Tuning Floating Hanger
Complies with Spec Boxster car preparation rules
Crafted from mandrel bent 2.25" T-304 Stainless Steel
Peak gains: +11 hp and +1 ft lb at the crank
Max gains: +36 hp and +29 ft lb at the crank at 6250 rpm
21 lb weight savings with straight pipes (15lbs total)
12 lb weight savings with resonators (24lbs total)
Stainless V-Band Connections
Porsche Style Floating Hanger Design
Optional Resonators and Turndowns for sound limit compliance
A complete solution, our Spec Boxster Exhaust bolts on to the factory exhaust manifold and includes all necessary installation hardware. It will install and fit like a factory system, taking away any and all guess work.
AWE Tuning's exclusive Floating Hanger
As an exhaust system heats up, the stainless steel begins to expand. This expansion can cause fixed style hanger designs to crack in the middle of a race. Our Spec Boxster System incorporates a Porsche Style AWE Tuning Exclusive Floating Hanger Assembly. This design, which utilizes stainless steel wire mesh, can absorb this growth without undue stress to the system or damage to the hanger assembly. The result is a long-life system, ready for the rigors of repeated track abuse.
Modular flexibility for every situation
The AWE Tuning Spec Boxster Exhaust is modular, allowing you to quickly and easily change between straight pipes and resonator sections without rebuilding the exhaust system. Racing on a track with no sound requirements? Use our Straight Pipes for maximum weight savings. Need to comply with sound level requirements? Bolt on our Resonator Sections, using straight through stainless steel resonators, and bring the volume down a notch. Still too loud? Use our Resonator Sections in conjunction with our Optional Turndowns for the quietest configuration.
Please note that due to the elimination of factory emissions equipment, this system is legal for racing use only.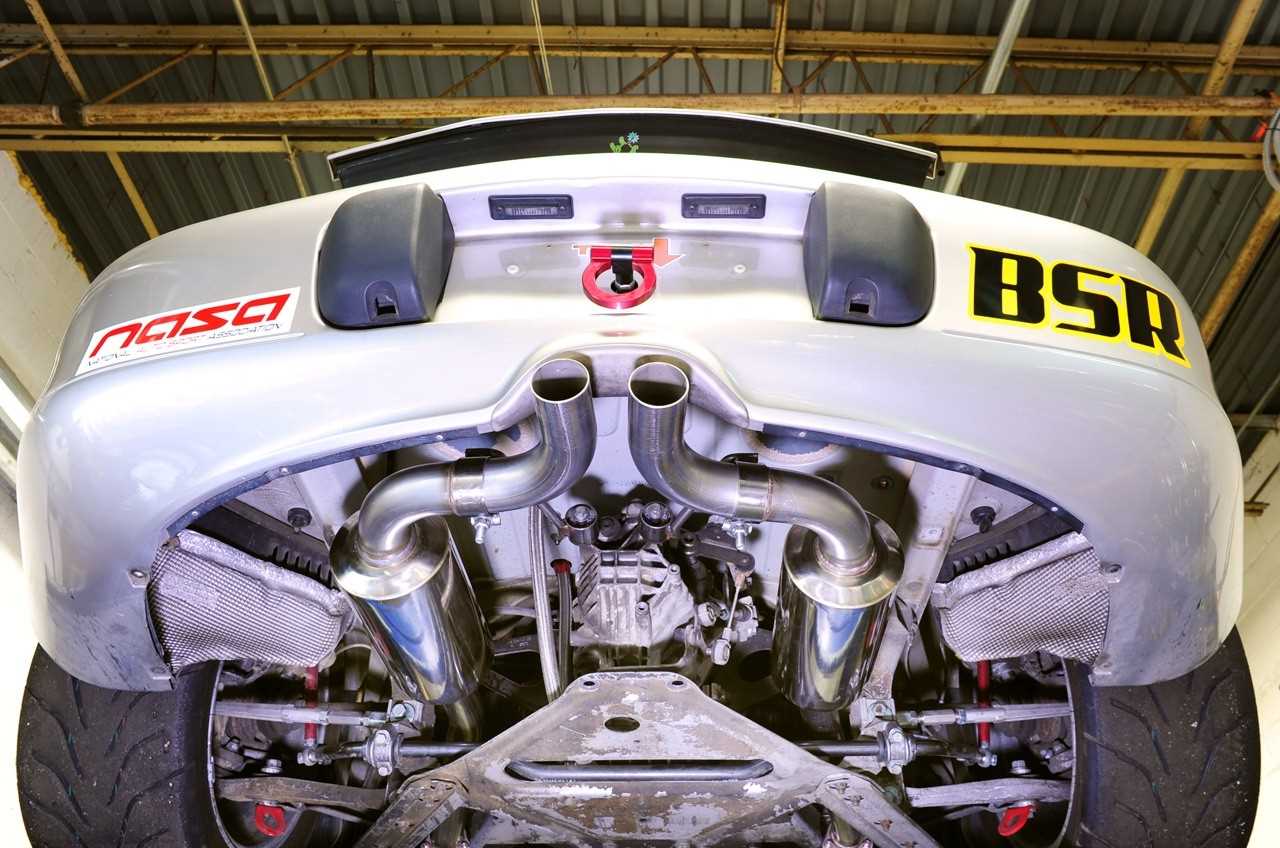 ---