Stage 1 - 215 HP / 235 LB-TQ
( +35 HP / +58 LB-TQ )
Performance Software Precisely Engineered to Run on a Completely Stock Car.
For 91 octane fuel

Stage 1+ - 225 HP / 260 LB-TQ
( +45 HP / +83 LB-TQ )
Performance Software Precisely Engineered to Run on a Completely Stock Car.
Ignition Timing Precisely Calibrated for 93 Octane Fuel

Stage 2 - 235 HP / 275 LB-TQ
( +55 HP / +98 LB-TQ )
Performance Software Precisely Engineered to Run on a Completely Stock Car.

Ignition Timing Precisely Calibrated for 93 Octane Fuel

Precisely Calibrated for an Upgraded Exhaust System (Go Green - Use a Catalytic Converter)
Optimized for a High Flow Catalytic Converter

Stage 2 Required Hardware
Trubo Back Exhaust System

Stage 2
Recommended Hardware
Cold Air Intake or Short Ram
Upgraded (DV) Diverter Valve
Upgraded Intercooler

Installation
** IMPORTANT ** Ecu needs to be Sent to UroTuning. See below for details.

Features for all Stages
Engineered with Strict Industry Standards
Extensively Tested Under Various Driving Conditions
Factory Safety Limiters Retained
Greatest Power and Torque Gains in the Industry, Guaranteed!
Optimized Responsiveness and Drivability
Optimized Smoothness and Driving Comfort
Power Delivery Perfectly Optimized Throughout the Power Band
Improved Fuel Efficiency
Engineered with Strict Industry Standards
Speed Governor Removed
Lower End Hesitation (Lag) Removed
Optimized for an Upgraded (DV) Diverter Valve
**Price includes FREE USPS NEXT DAY AIR shipping to and from Urotuning facility (offer good for Continental United States only). Here is how it works.. you place the order online noting your ECU part number when ordering. We will send you a USPS label to print out. Simply remove your ECU from your car and safely box it up and attach USPS label. Drop off at any USPS facility. We will get your ECU the next day and flash it with Unitronic software. We box it back up and ship it back to you via USPS NEXT DAY shipping. Re-install your ECU and enjoy your new-found Horsepower!! So if you remove your ECU Monday and ship it out. we flash it with Unitronic on Tuesday and ship it back.. you will have your ECU back on Wednesday. By using Next Day Air shipping the downtime is drastically reduced! Detailed instructions for removing your ECU can be found here.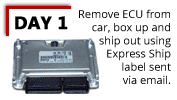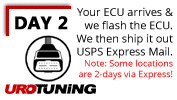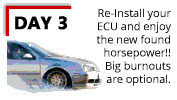 **LOCAL CUSTOMERS contact us for details on having your car tuned at our store. Call or Text 813-444-7021
Upgrade Policy: NOTE: This software is also available to be installed locally at the UroTuning facility in Tampa Florida. Call us to set up an appointment at 813-444-7021
Unitronic is a leader in Performance Software and Hardware for VW, Audi, and Porsche. UroTuning is proud to be a top dealer for Unitronic offering their highly sought after tunes and premium quality performance parts. We literally Delivery the Power and offer Flash at home software with Unitronics Uniconnect Cables.
⚠️CALIFORNIA WARNING: Cancer and Reproductive Harm - www.P65Warnings.ca.gov
---