Solo Werks S1 Coilover System - Premium Entry Level Coilover Suspension!
NOTE: Currently shipping 50mm struts with 50-55mm sleeves for fitment on both 50mm and 55mm models.
Heavy gold galvanized Housings for superb corrosion resistance
New progressive elastomer bumpstops
Silver spring perches - double lock ring design
Platform Specific Spring Rates and Matched Valving
Front 35-65mm (1.4-2.5") Lowering Range
Rear 35-70mm (1.4-2.75") Lowering Range
3 year Limited Warranty
Each Kit contains:
2x Front Threaded Coilover Dampers -Heavy Gold Zinc Plated with dual locking ring spring perches
2x Front Spring (Linear Rate) + 2x helper spring
2x Rear Dampers

2x Rear Adjustable Perches

2x Rear springs (Progressive Rate)
2x Coilover Spanner Wrenches
Step by Step Installation Instructions
1oz. Bottle Boeshield T-9 Lubricant/Protectant
Application / Fitments:

All MK7 GTi / Golf R MQB platform including 8v Audi A3 / S3

All 2.0T engines with 55mm Front Strut Housing 
Volkswagen Mk7 GTi (w/ IRS)
Volkswagen Mk7 Golf R (w/o EDC)
Volkswagen Mk7 Golf Alltrack (w/ 4Motion) / Sportwagen 1.8T
Volkswagen Mk7 Jetta GLi (w/ IRS)
Audi A3 2.0T Quattro
Audi S3 2.0T Quattro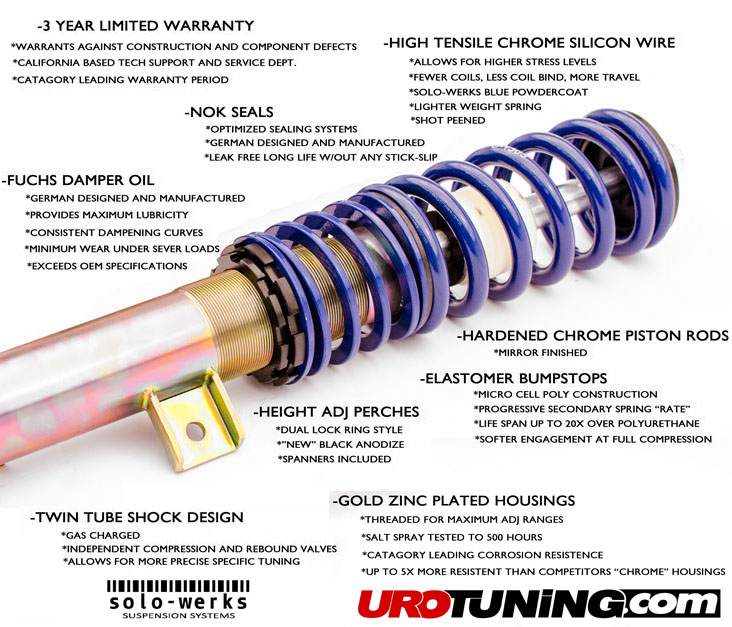 Solo Werks Suspension Systems is a suspension company born from over 10 years of industry experience. Rather than focusing on corporate growth Solo Werks prides themselves on creating great suspension products while keeping their heart in the industry. Solo Werks is dedicated to keeping the true spirit and passion of the automotive industry alive by creating amazing products for enthusiasts around the globe.