42 Draft Design Mk3 VR6 Upper Intake Tube |
IN-301-20B
---
As our cars age, plastic parts fail one-by-one. The VR6 air intake boot is no exception. Known to fail in multiple locations, this factory part secretly cracks, killing performance. We're tired of repeatedly replacing the same faulty part, so we designed a permanent solution. Our VR6 Upper Intake Tube replaces expired plastic with heavy-duty mandrel bent tubing and silicone connectors. Our design simplifies the PCV system, fixing leaks forever without any additional hardware. The only side effect is a boost in power!
Precision fabricated from 3 inch mandrel bent tubing, our Upper Intake Tube makes the turn from MAF to throttle body without affecting MAF position or contacting the strut tower. The key to our successful fitment lies in the bend radius of our tubing. We're bending 3 inch as tight as any mandrel bender can pull it. Bent tubes are trimmed and aligned on precision tooling where PCV tubing is added. Assembled tubes are TIG welded and bead rolled before heading to powdercoat.
To finish the tubes we apply a Wrinkle Black or Reflective Silver powdercoat. Silicone connectors, PCV, tubing, and hose clamps are added to complete the kit. We're using 4-ply silicone couplers from a trusted source and the same PCV tubing used in our oil catch can kits. Stainless steel inner-lined hose clamps hold everything together, protecting couplers while making the seal.
Once installed, a test drive will reveal a noticeable power gain. We blame it on the smooth path we've created for the intake air as it enters the throttle body. We find part throttle tip-in delivers, while a noticeable bump in power can be felt during midrange and high rpms. How can we claim gains from a simple intake pipe? We've been building these intake pipes for years and have always found worthwhile gains, especially when complimented by an aftermarket intake. We're not offering miracles by any means, but when you're building an all-motor VR6 every little bit helps.
**Add On option: A bung for the 1.8T intake air temperature sensor (IAT) can be added to the intake pipe. You can add the bung from the options above.
Our Mk3 VR6 Upper Intake Tube is available in ODB1 and OBD2 fitments. OBD1 fitments allow connection of the ISV plumbing. All fitments include tubing and clamps to fix any factory PCV plumbing. All fitments available powder coated Wrinkle Black or Reflective Silver.

IMPORTANT: The 42 Draft PCV Fix (42-130-010) is basically included with this kit. So save some CASH and don't order both! :)
NOTE: The factory Intake Temperature Sensor is retained from the OEM intake tube.
Construction
3" Mandrel Bent Tubing
Precision TIG Welded
Aluminized & Stainless Steel Standard
100% Stainless Steel Optional
All Tubing Connections Bead Rolled
Powdercoated Finish
Includes
Upper Intake Tube
Black Silicone Couplers
Black PCV Tubing
Stainless Steel Inner-Lined Clamps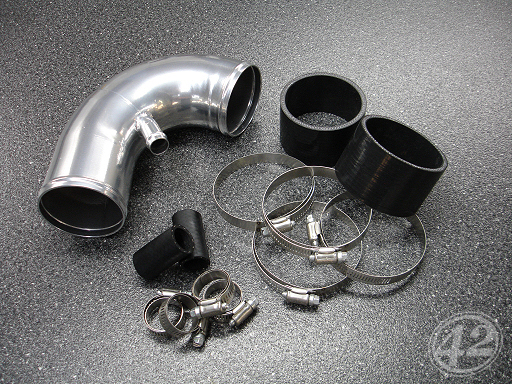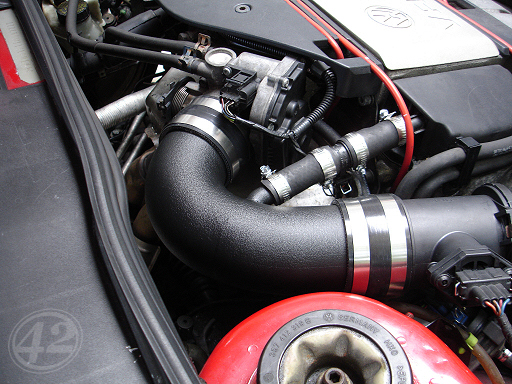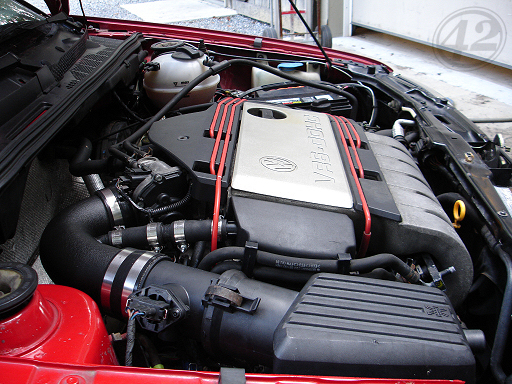 42 Draft Design is a manufacturer of high performance parts and accessories for VW, Audi, Porsche, and BMW vehicles. From exhaust and intakes to custom catch cans and billet aluminum engine parts, 42 Draft Designs covers it all and prides themselves on never cutting corners, always delivering the best possible products to enthusiasts.
42 Draft Designs products are manufactured from scratch in Millersville, MD. We use high-quality American-made materials throughout our products, manufacturing in-house every component possible. When necessary to outsource, we start with American companies that manufacture their products in the USA. Our modest manufacturing facility is staffed by a team of 12 machinists, metal fabricators, and TIG welders trained to work in exacting precision. From design to manufacturing we never rush, cut corners, or take shortcuts.
Due to growing demand for our products, lead times may exist.
Most items with a lead time are considered 'Made To Order' items and are subject to an early cancelation fee and a restocking fee if returned.



⚠️CALIFORNIA WARNING: Cancer and Reproductive Harm - www.P65Warnings.ca.gov
---