Air Lift | Accuair e-Level Full Package w/ Touchpad | Mk4 Golf | Jetta | Mk1 TT
---
Air Lift / Accuair e-Level Full Package w/ Touchpad
The revolutionary e-Level system from AccuAir has completely redefined the digital air suspension industry. Never before has an air ride control system been so easy to use, beautifully made, or perform as flawlessly as the AccuAir e-Level system.
For the ultimate in form and function, the intuitive TouchPad is the top of the line interface option for the e-Level Controller. Hand held or mountable, the TouchPad gives full manual control over each air spring individually as well as front and rear air spring control in pairs. Saving and accessing your three preset heights is only a touch away and a yellow glowing ring around each button clearly indicates the current vehicle height. The All-Down button fully deflates the vehicle for parking. Every button offers a crisp, tactile feel and is backlit with crystal white LEDs for clear daytime and nighttime operation.
e-Level+ versus e-Level Classic
| | | |
| --- | --- | --- |
| Feature | e+ | Classic |
| TruPosition Height Sensors | ✔* | ​✔ |
| Programmable Heights | ✔* | ​✔ |
| RideMonitor Mode | ✔* | ​✔ |
| 100% Plug and Play | ​✔ | ​✔ |
| Auto-Calibration | ✔** | ​✔ |
| Rise to Start | ✔* | ✔ |
| Bluetooth 5.0 | ✔ | ✘ |
| e-Level Plus App | ✔ | ✘ |
| RBG Backlit ECU | ✔ | ✘ |
| Magnetic Touchpad | ✔** | ✘ |
| Compressor Status Light | ✔** | ✘ |
| No Break Touchpad Cable | ✔** | ✘ |
| Height Indication in App | ✔* | ✘ |
| Over-The-Air Updates | ✔ | ✘ |
* Requires e+ Height Sensors
** Requires e+ Height Sensors and/or e+ Touchpad
AccuAir e-Level with TouchPad Key Features
TruPosition height sensors

(3) User Definable height-based presets

RideMonitor Mode

Switch between (3) user-defined Ride Heights at the press of a button

Easy All Down Functionality

Manual Control Mode for each bag (individually or front/rear pairs)

Accurate to within 1/8

Optional Rise-on-Start

Automatic System Calibration

User Definable System Sensitivity

User Definable Compressor ON/OFF Pressure Setting
VU4 VALVE UNIT
The well proven architecture found in the AccuAir VU4 is tried and true. The VU4 4-Corner Valve Unit is engineered to provide the cleanest installation and most reliable operation on the market. The robust internal solenoid valve architecture maximizes flow rates, provides bubble-tight sealing, and guarantees operation up to 200 psi for millions of cycles. This electronic solenoid valve unit inflates and deflates up to (4) individual Air Springs.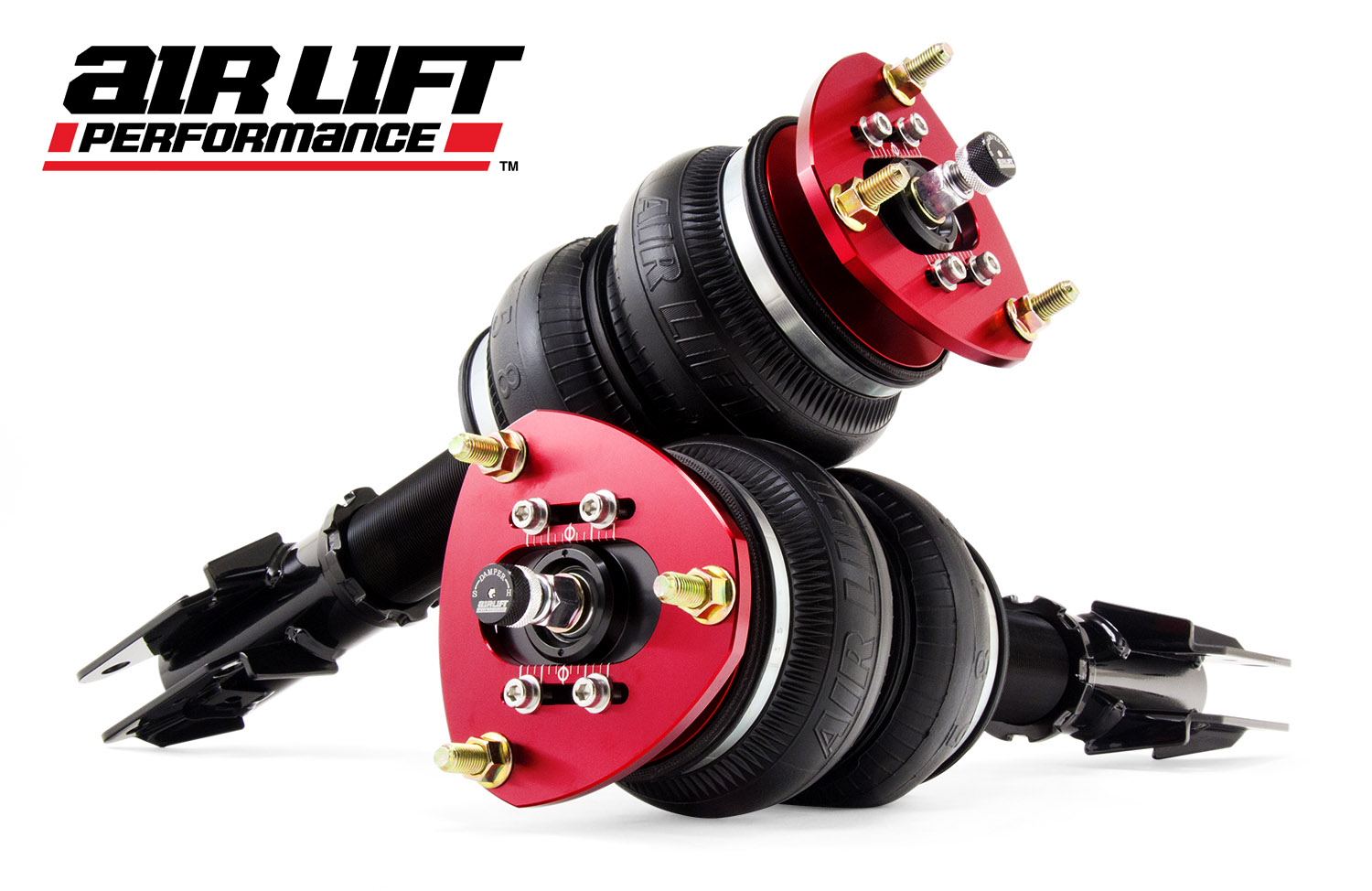 AIR LIFT SUSPENSION

Get the stance you want and the performance you need with Air Lifts air suspension kits! Every kit we offer is fully engineered to properly fit your vehicle, provide unmatched static drop, and deliver ride and handling capability that exceeds factory suspensions. No other lowering suspension provides a more versatile package for daily use.

Choose from either the SLAM series or PERFORMANCE series kits.

PERFORMANCE SERIES KITS
Performance Series air suspension kits are the ultimate suspension choice for your ride. All applications feature lightweight monotube shocks/struts with 30-level adjustable damping. Adjustable camber plates are integrated into the struts top for perfect alignment or wheel fitment and are engineered with high quality spherical bearing upper mounts, providing instant damper response and precise steering feel.

Another great feature is that the Performance Series shocks/struts have threaded bodies with adjustable mounts; this allows you to alter the factory set heights to better suit your situation without sacrificing suspension travel. As with the Slam Series kits, Air Lift Performance provides everything needed for easy installation. And while everyone loves the way their car looks laid out on the ground, these Performance Series kits are best enjoyed while in motion! The huge range of damping, mated with our progressive rate air springs, allows you to have a comfortable ride on the highway. And with the twist of the damping knob, you have a track-ready suspension poised to cut a fast lap.

Everything about the Performance Series kits is geared towards maximizing your vehicles suspension: lowest drop, best ride, lowest weight, most adjustability, and incredible handling. All proven on racetracks and back roads around the world.

SLAM SERIES KITS

Slam Series air suspension kits are designed to give you a slammed stance without the harsh ride quality of lowered coils. A Slam Series strut or shock features twin tube construction coupled with fixed damping, tuned for that specific vehicle. In most cases, the struts bolt directly in place of the OEM equipment and come complete with our patented, noise-reducing upper mount for a quiet ride. Depending on the application, you will see either a double-bellows or a sleeve-style air spring to support the load of your vehicle. These kits are focused on providing an earth-scraping drop while maintaining a great daily ride quality. If you're looking for the most affordable way to get on air, a Slam Series kit is for you.

COMPLETE KIT CONTENTS
AccuAir e-Level System of your choice
AccuAir VU4 Manifold
Air Lift Front/Rear Suspension of your choice
Air Tank of your choice

Tank Fitting Pack (when tank selected)
Compressor(s) of your choice
40amp Relay(s) for your compressor(s)
Relay Wiring Kit(s)
Air Line Cutter Tool

DOT Approved Air Line
** 1/4" air line option will receive (6) Plug-In Reducers



⚠️CALIFORNIA WARNING: Cancer and Reproductive Harm - www.P65Warnings.ca.gov
---