AWE Tuning Audi Q5 3.0T Touring Edition Exhaust |
3015-32050
---
Perfect tone, unlocked power and uncompromised daily driving manners.

For the Q5 3.0T, we knew the tone and volume had to be spot on, given the varied environments this do-it-all vehicle finds itself in. It needed to deliver an eye-opening wail at full throttle yet be quiet and civil during part throttle, around town driving. Countless research and development efforts by our Fabrication and Engineering Departments have yielded the finest Q5 3.0T exhaust on the market. This system took AWE's Q5 3.0T down the 1/4 mile in 12.502 seconds!
Featuring:
Featuring AWE Tuning's sound cancellation solution: 180 Technology

Engineered for optimal performance with the Eight-speed Tiptronic transmission

Featured on the quarter mile record setting AWE Tuning in-house Q5

Direct bolt-on

X-Pipe for enhanced exhaust scavenging and improved tone

Available with Chrome Silver or Diamond Black adjustable 102mm tips

Crafted from 2.5" T304 Stainless Steel

No CEL Guarantee

Fitment Guarantee

Lifetime Exhaust Warranty
Tuning for the 8 Speed Tiptronic Transmission
Due to the weight and aerodynamics of the Q5, the 3.0T engine needs to work a bit harder to move it down the highway. The extra effort creates more exhaust sound volume, which became quite a challenge in the development of a performance exhaust. Special attention would be required - as well as the application of AWE Tuning's AWE Tuning 180 Technology.

Sound Perfection: AWE Tuning 180 Technology
As exhaust gases exit the 2.0T engine and flow into an AWE Tuning 180 Technology equipped resonator, they pass through strategically located ports, and into reflection chambers. Sound waves, carried by these exhaust gasses, bounce off the walls of the reflection chambers. By controlling the size and location of the ports and the chambers, we also control when the sound waves exit the chambers. The specific timing of when the reflected sound waves re-join the main exhaust flow creates a one-hundred-and-eighty-degree out-of-phase sound wave that cancels out problematic frequencies.

The stock exhaust system is full of crimped tubing that hurts exhaust flow and robs horsepower. Our Q5 2.0T Exhaust was designed with smooth gradual bends and to eliminate any interruption to the flow of exhaust gasses. Our improvements to the exhaust path result in gains of +13 horsepower and +13 lb ft of torque at the crank.

Replacing the large, restrictive factory mufflers also has a pleasing effect on the engine note. Our exhaust systems give the 2.0T a civilized, more melodious voice, with specific attention paid to low rpm situations at part throttle.
The Downpipes
Turn your 3.0T Q5 up to 11 with the AWE Tuning Q5 3.0T Non-Resonated Downpipes. These hand crafted T304 Stainless Steel Non-Resonated Downpipes produce a distinctive, more aggressive sound when coupled with the AWE Tuning Touring Edition Exhaust.
The head-turning upgrade:
More aggressive sound when mated with the AWE Tuning Touring Edition Exhaust

Constructed from 2.5" T304 Stainless Steel
Hand crafted in-house in Willow Grove, PA
Specifically developed for the 3.0T Engine
Direct bolt-on
Compatible with the AWE Tuning Downpipe Removal Tool
No CEL Guarantee
Fitment Guarantee
Lifetime Exhaust Warranty
Please note: Non-Resonated Downpipes cannot be returned for sound-related reasons.
Downpipe Installation Tip
Installing downpipes on these SUV's can be arduous given the placement of the factory bolts. We had so much trouble that we made an AWE Tuning-grade tool to make it easier. If you're planning an install, our Downpipe Removal Tool is a must have.
The Tips
All tip options include the AWE Tuning logo, and double walling to ensure a mirror finish even under hard usage. All tips are individually adjustable, so depth into the bumper can be set according to personal taste.
102mm Slash Cut Diamond Black Tips
102mm Slash Cut Chrome Silver Tips
What's in the box?
The Q5 Touring Edition Exhaust includes the exhaust system itself, two exhaust tips, and all clamps and hardware required.


Non-Resonated Downpipes (Additional)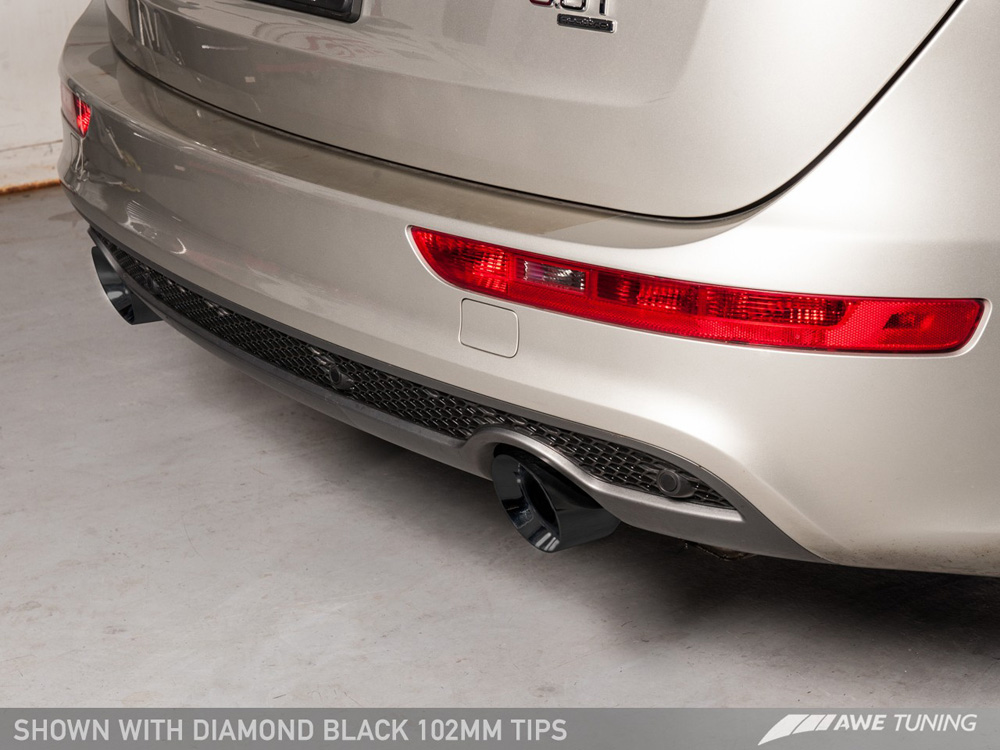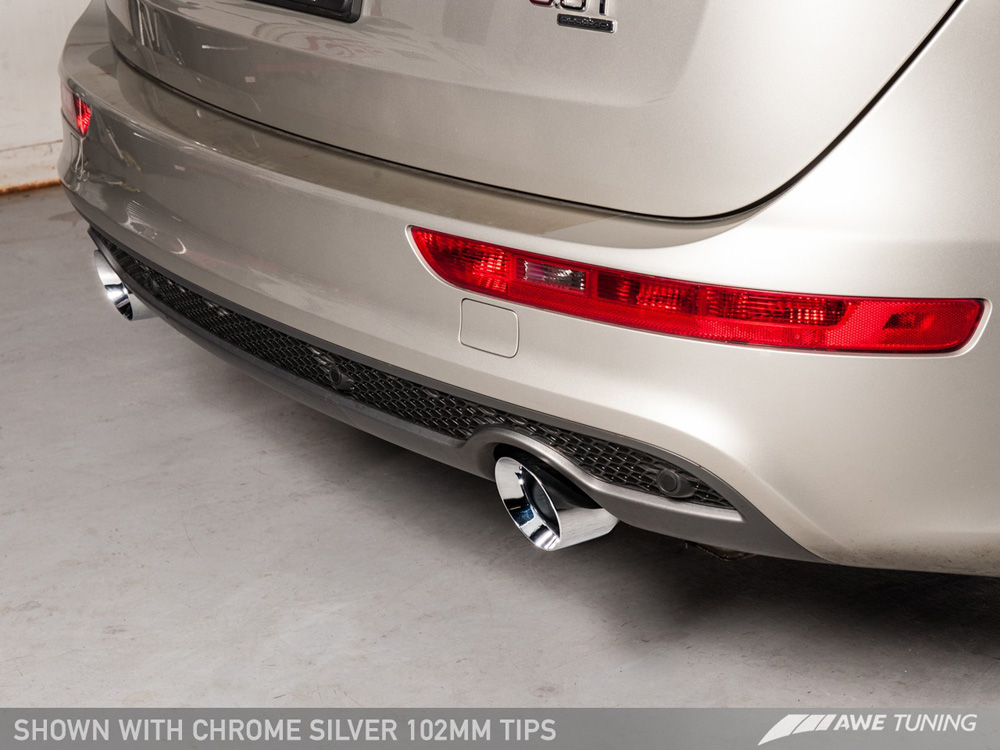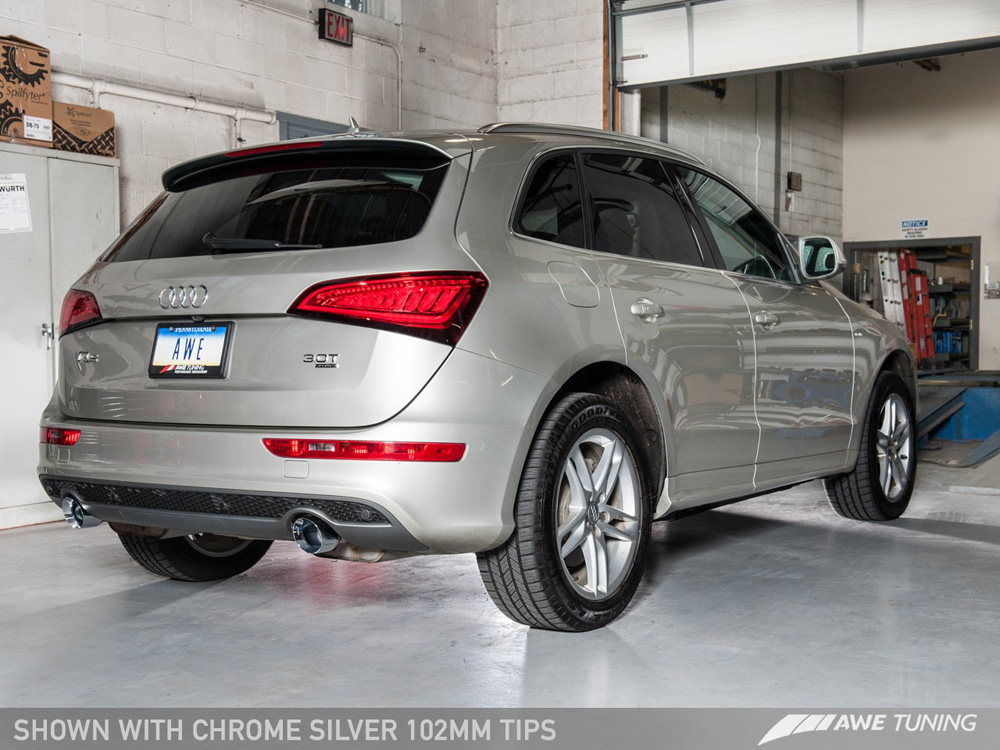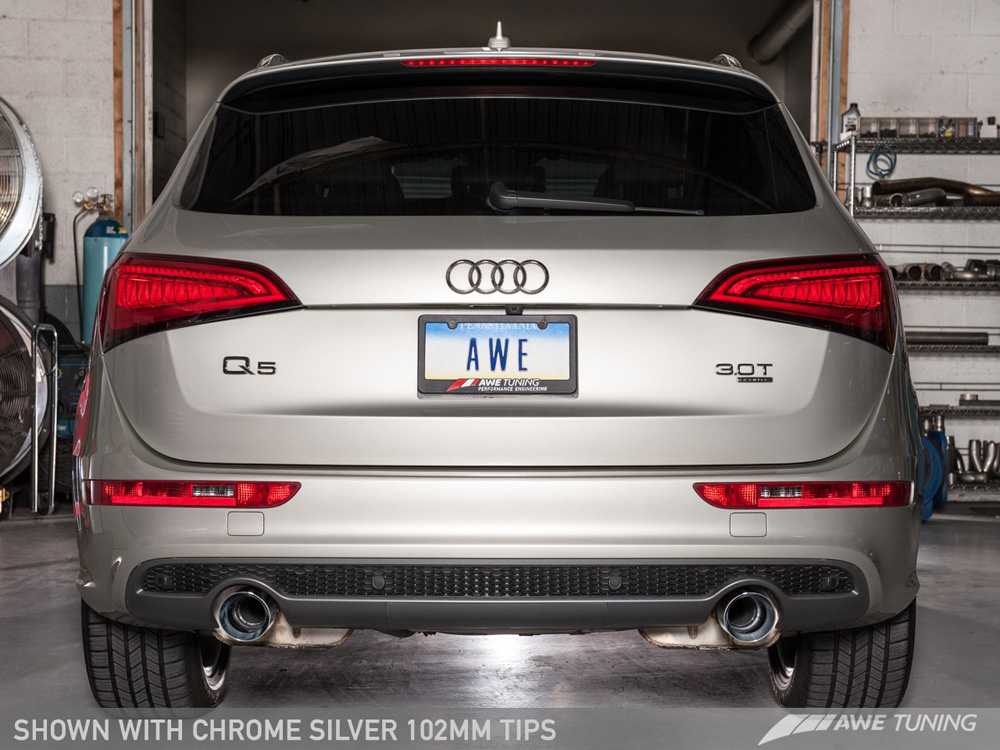 Install Instructions can be found
here
.



⚠️CALIFORNIA WARNING: Cancer and Reproductive Harm - www.P65Warnings.ca.gov
---