The Exhaust your B9 Audi S4 3.0T has been longing for from AWE Tuning!
UroTuning offers the AWE Tuning Track Exhaust system for the B9 Audi S4 for those looking for the utmost performance with amazing sound! We feel this is the best sounding exhaust system out there today for the 3.0T equipped Audi S4. AWE Tuning has been countless hours researching and developing this system to perform at the highest levels possible with no compromise. The sound this Track Edition exhaust creates for the Turbo V6 is one that will send chills down the spine of anyone within an ears reach!
Features:
Max gains of 16 HP and 17 FT-LBS of torque at the crank
Available as sophisticated Touring Edition, unleashed Track Edition, and valved SwitchPath
Touring Edition Exhausts features AWE Tuning's proprietary drone-canceling solution, 180 Technology
Have complete control of the SwitchPath Exhaust with the SwitchPath Remote or factory valve programming
Downpipes and precision-engineered x-pipe on all versions
Compatible with standard and sport differentials
90mm or 102mm double-walled tips available in chrome silver and diamond black, and coming Winter 2017 - AWE Carbon Fiber Tips!
Engineered, designed, and manufactured in-house at AWE Tuning
Less is more: clean, straight-through design maximizes performance
Handcrafted from dual 2.5" CNC mandrel-bent U.S.-sourced .065" wall T304L stainless steel
Direct bolt-on system for factory-like simplicity
Perfect fitment guaranteed
No Check Engine Light - Guaranteed
Featuring the AWE Tuning Lifetime Exhaust Warranty

The Options:


Touring Edition Exhaust


The best just got better.
Signature Howl, delivered. The Touring Edition is the sophisticated member of the B9 exhaust family.
The Touring Edition Exhaust removes the factory valving and replaces it with AWE's 180 Technology drone-cancelling resonators (and electronic valve simulators). This solution provides for a perfect, signature AWE experience: civil within the cabin while cruising, yet all the pops and burbles during acceleration and downshifts.
The Touring Edition Exhaust comes complete with 180 Technology resonators, a precision-engineered x-pipe, resonated downpipes, and your choice of 90 or 102mm tips in either diamond black or chrome silver.
Sound Perfection: AWE 180 Technology
Perfect tone, compliments of AWE 180 Technology.
As exhaust gases exit the 3.0T engine and flow into an AWE 180 Technology equipped resonator, they pass through strategically located ports, and into reflection chambers. Sound waves, carried by these exhaust gasses, bounce off the walls of the reflection chambers. By controlling the size and location of the ports and the chambers, we also control when the sound waves exit the chambers.
The specific timing of when the reflected sound waves rejoin the main exhaust flow creates a one-hundred-and-eighty-degree out-of-phase sound wave that cancels out problematic frequencies. Cool, right?
Track Edition Exhaust
For those who like it loud, go Track.
The Track Edition Exhaust is equipped with the same precision-engineering as its Touring Edition counterpart, minus the resonators up front and 180 Technology resonators in the rear. Instead, the Track Edition comes complete with non-resonated downpipes and straight pipe sections -- leaving the integrated x-pipe as the only filter.
This version is known to get rowdy, and may be too much for many. For that reason, this particular version cannot be returned due to sound preference. Prepare yourself.
SwitchPath Exhaust
The SwitchPath valved solution is for those who want complete control of their S4's volume and tone, at their fingertips.
The SwitchPath Exhaust comes complete with non-resonated downpipes, a precision-engineered x-pipe mid-section, and two valved muffler sections which can be controlled via the SwitchPath Remote.
Sneaking out in the morning? Keep the valve closed.
Ready to rumble? Open the valve and let them know you're coming.
Note: we recommend and encourage pairing the SwitchPath Exhaust with the SwitchPath Remote versus using the factory operation for the best SwitchPath experience.
Tip Options:
All tip options include the AWE logo, and double walling to ensure a mirror finish even under hard usage. All tips are individually adjustable, allowing depth into the bumper to be set according to personal taste.
102mm or 90mm diamond black tips
102mm or 90mm chrome silver tips
Carbon fiber tips, coming winter 2017
What's in the box?
Complete SwitchPath, Touring or Track Edition Edition Exhaust, four double-walled tips is chosen color and size, resonated or non-resonated downpipes, installation instructions, and required hardware.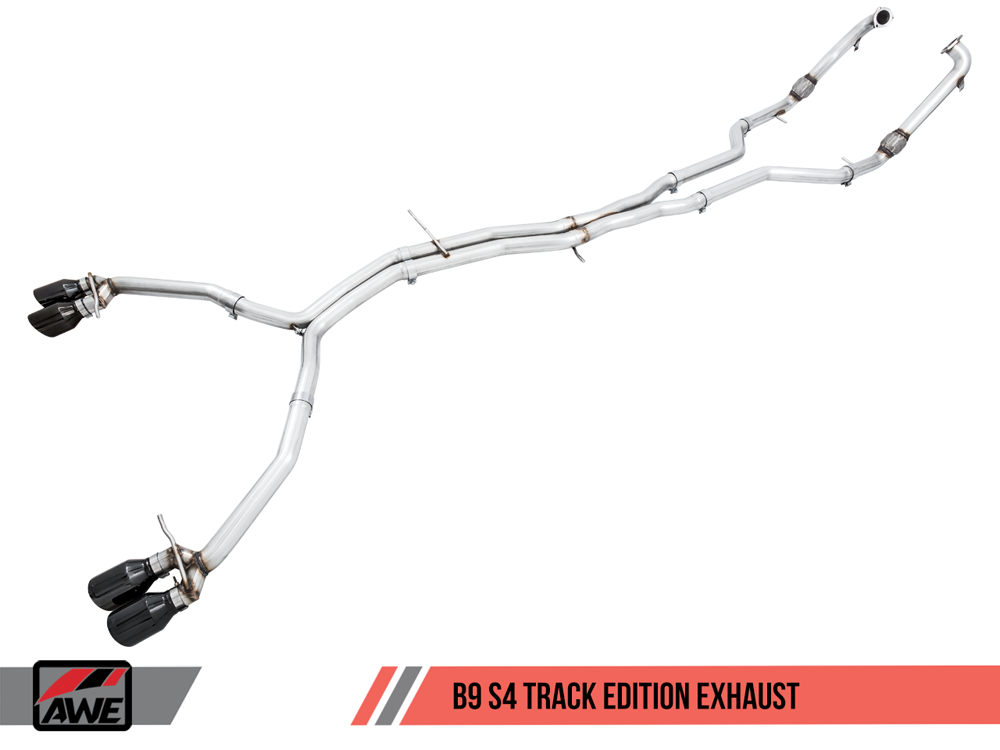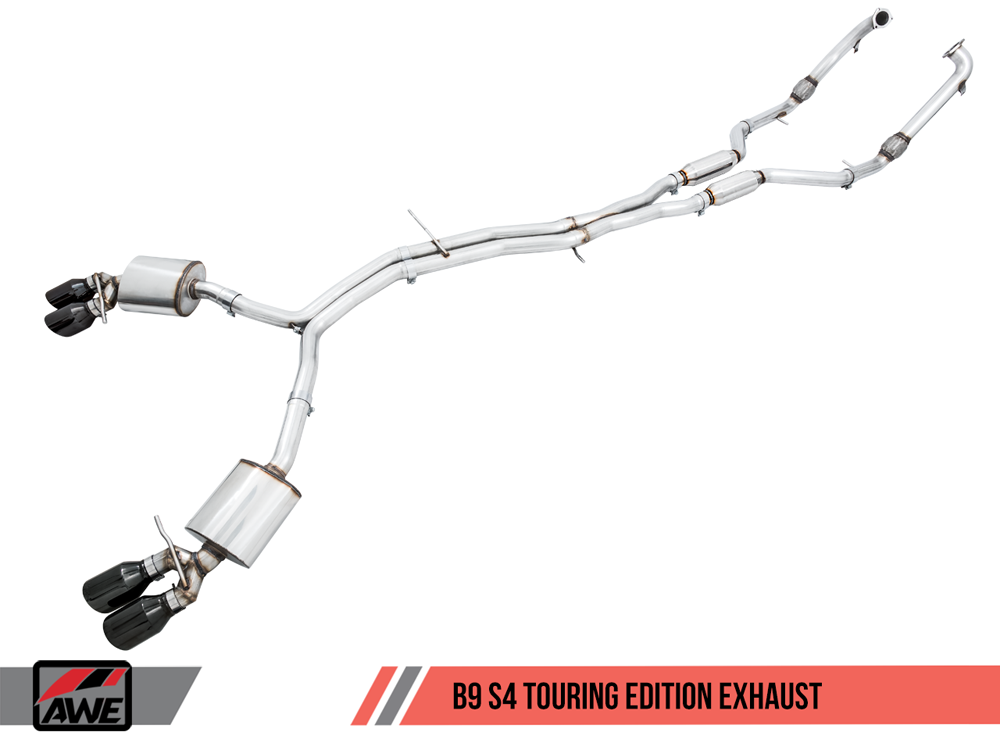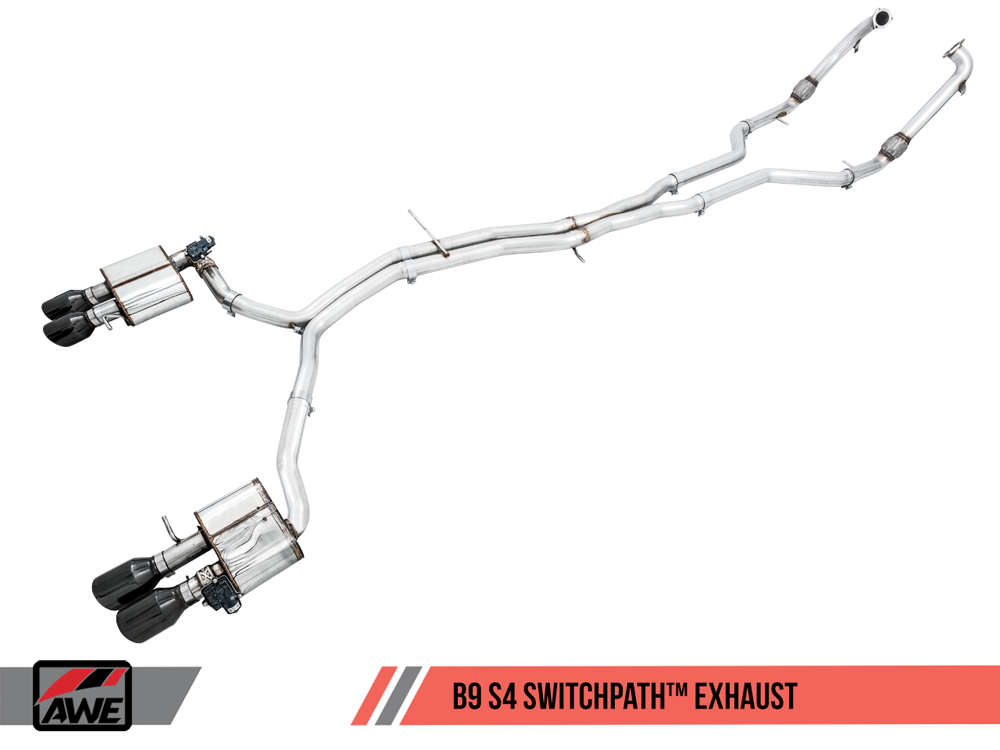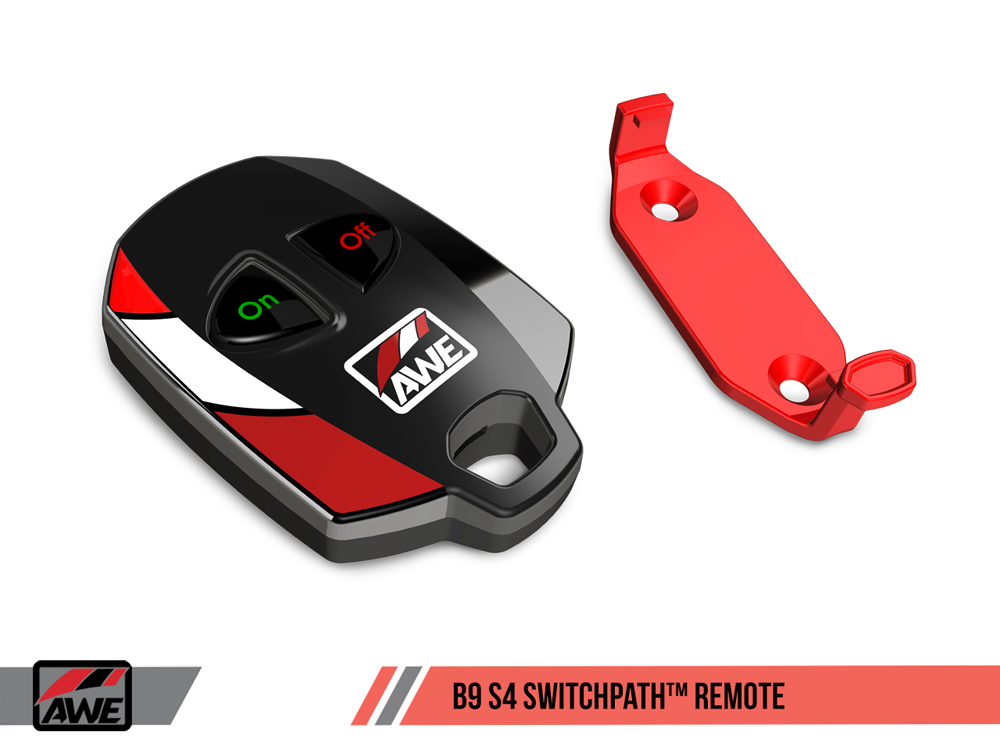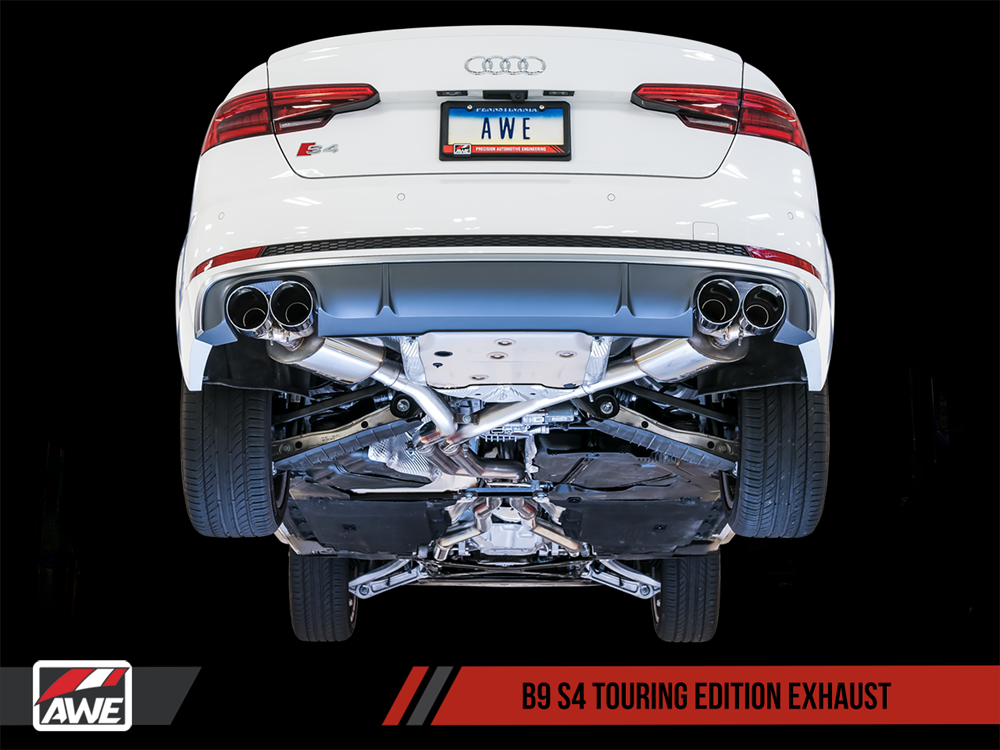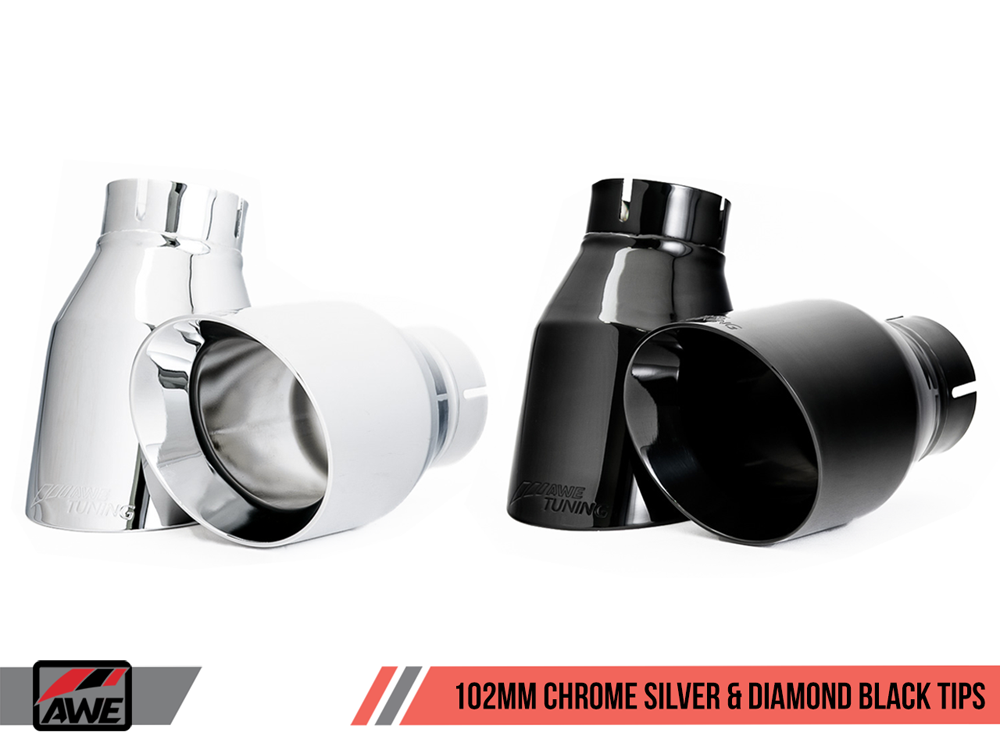 AWE Part Numbers - 3010-42058, 3010-43052, 3010-42054, 3010-43048, 3010-42060, 3010-43054, 3010-42056, 3010-43050, 3025-42034, 3025-43038, 3025-42030, 3025-43034



⚠️CALIFORNIA WARNING: Cancer and Reproductive Harm - www.P65Warnings.ca.gov
---