Fabspeed HJS Sport Cat Pipes - McLaren 720S |
FS.MCL.720S.SC
---
Replace the four restrictive McLaren 720S OEM 650 cell catalytic converters with two ultra high-performance 200 cell HJS German-Imported Tri-Matallic high flow catalytic converters for improved performance and hypercar sound.
Fabspeed Motorsport USA was the very 1st company in the world to design, engineer, dyno and develop performance parts for McLaren cars. Fabspeed has the most experience and knowledge of any company on these cars.
Utilizing our two development McLarens, MP4-12C and 570S, we've experimented with many designs and were able after much testing and engineering to craft the highest quality catted downpipes on the market. We are utilizing bullet proof, high flow 200-cell HJS German Imported HD catalysts that flows 93% to 95% of a straight pipe for most possible power especially when paired with a tune, and ultimately a superior solution. Fabspeed Motorsport invested a lot of time and resources into developing the best possible McLaren downpipes and we're now proud to offer you this latest and greatest solution. McLaren is constantly updating their vehicles and offering even better performance, and we're dedicated to doing the same. Fabspeed Motorsport is the world's authority for aftermarket McLaren performance.
HJS HD German Imported 200-CELL CATALYSTS:
HJS Germany manufactures the highest quality catalysts in the world. Fabspeed has incorporated 200 cell-HJS HD catalysts into our latest design to maximize horsepower. Our complete redesign incorporates these high flowing catalysts in conjunction with military spec thermal heat blankets and makes incredible power gains by themselves and maximum power when paired with a complete Fabspeed exhaust and ECU Tune package.
HEAT BLANKETS:
Keeping heat in the exhaust maintains the maximum velocity of exhaust gasses, allowing the turbos to spool faster while ensuring maximum power is extracted through increased thermodynamic efficiency and flow. Fabspeed thermal blankets are rated to 1800 degrees. T321L Stainless steel mesh over a 321L stainless steel inner liner covering ceramic insulation makes direct contact with the downpipes. The basalt fabric exterior covers sewn with stainless steel mesh covering all edges and high quality stainless steel spring fasteners ensure longevity. Fabspeed thermal blankets are exclusively manufactured by a military defense contractor!
Features:
Fits all McLaren 720S vehicles 2018+ Model Year
Constructed with Fabspeed-proprietary 200-cell HJS HD German imported high-flowing catalytic converters. flow equivalent to 93% to 95% of a straight pipe / no cat systems.
Less restriction after the turbo allows for faster spooling and transient boost response.
Optimized for maximum performance with no check engine light. Compliance with emissions.
Improved sports car sound and power with less restriction after the turbo for faster spooling, you can have flames and still have exotic hypercar sports car sound.
All Fabspeed performance products are backed by the Fabspeed Lifetime Limited Warranty
NOTE: Fabspeed's 200-cell high-flow catalytic converters are not C.A.R.B. certified and are for Off-Road Use ONLY in the state of California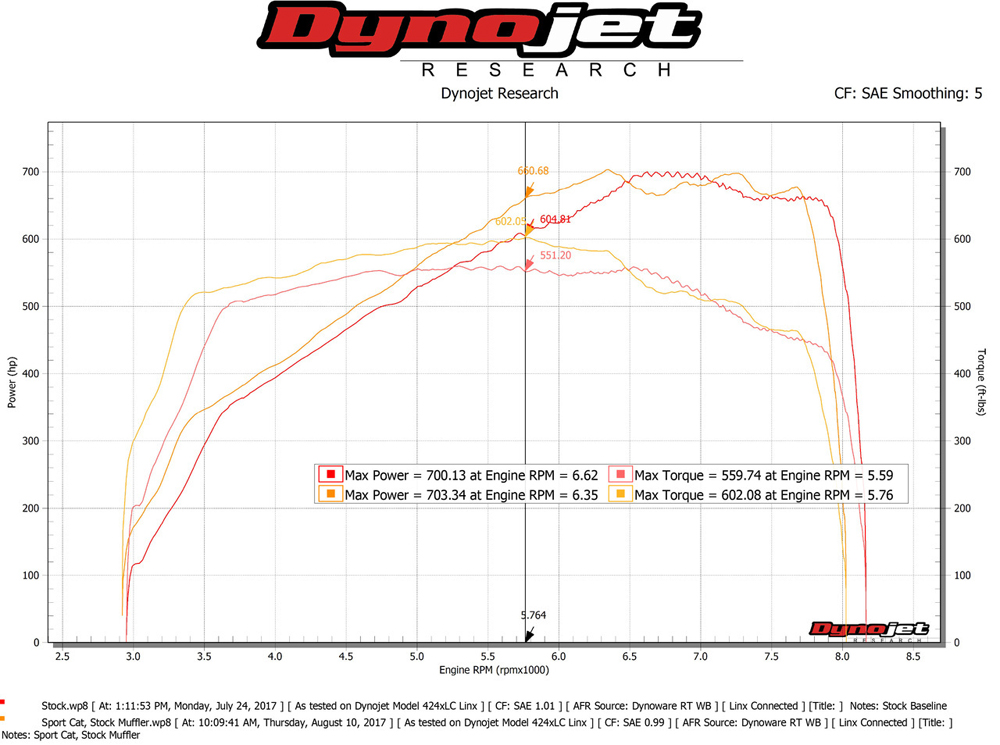 ⚠️CALIFORNIA WARNING: Cancer and Reproductive Harm - www.P65Warnings.ca.gov
---