GIAC DSG Software | VW Mk5 Golf R32 DSG |
GIAC_DSG_R32
---
NOTE: This software is ONLY available to be installed locally at the UroTuning facility. Do NOT order this item online. Call us to setup an appointment at 813-444-7021.
GIAC is proud to announce the release of its DSG transmission software for the MK V R32. This software complements GIAC performance engine software and is installed in minutes using the same GIAC flashing tools through the OBDII port. Installation of the GIAC product does not require removal of the DSG computer from the car.

GIAC's performance DSG software truly optimizes the launch control, shift and torque limiter features:

* Launch control: GIAC DSG programming will offer three launch control options at 3200 RPM, 3700 RPM (default setting and recommended for fastest time on street tires), and 4200 RPM.

* Shift points: Stock programming shifts between 6400-6600 RPM. GIAC Performance DSG programming smoothly shifts at 7200 RPM in manual mode (matching the GIAC 7250 RPM engine flash rev limiter) and at ~7100 RPM in sport/drive mode. Note: Some motor calibrations will have a lower shift limiter to match their corresponding programmed engine rev limiter.

* Shift Speed: Overall shift speeds are faster and down-shift revs match more closely. Sport mode programming grabs quickly and keeps you in gear at low speeds.

* Shift Indicator: Sport mode now as an added shift indicator function, showing which gear is engaged. (available only on the R32 at this time)

* Torque limiter: The torque limiter is increased from 100-200 Nm allowing more power to the wheels and faster shifts. Perfect for cars with an upgraded Turbo!

Introductory MSRP is $450 for the DSG flash. Features may vary based on model and engine configuration.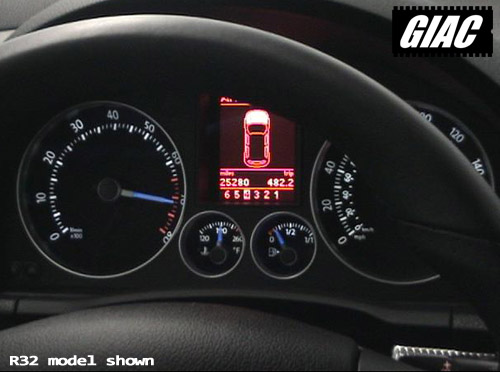 ⚠️CALIFORNIA WARNING: Cancer and Reproductive Harm - www.P65Warnings.ca.gov
---