MK3 Ecode headlight wire kit. Single bulb 9004 to D-plug |
HWRV3H-SG
---
* FREE Shipping within the continental United States Only.
Everything you need to wire up eurospec mk3 headlights to your car (9004 type). Includes MK3 Specific D-shape connectors for clean install!
*IMPORTANT* Please check your stock plug to make sure it has a 9004 connector (3-pin roundish - see pics). The NA (North American)-MK3 has 2 types of wiring, majority are 9004 but some models(mainly GTI) have the TWIN beam.
This is NOT for you if you have the TWIN beam stock. Please confirm the 9004 connector in the pics before you buy this item.
One Headlight Wiring Kit for VW MK3 Golf / Vento / Jetta
This is the wiring harness to use if you are going to install brighter, tighter beam pattern Euro MK3 headlights in your North American Golf/Jetta 3/Vento.
This will work for *ALL* ECODE headlights with the D-Shape connector.
Everything needed to complete an quality installation is included with this kit. Pre-crimped connectors plug directly into the factory connector and also takes care of the city light socket that your North American model lacks!
Wiring kit is for both Headlight lamps (left & right)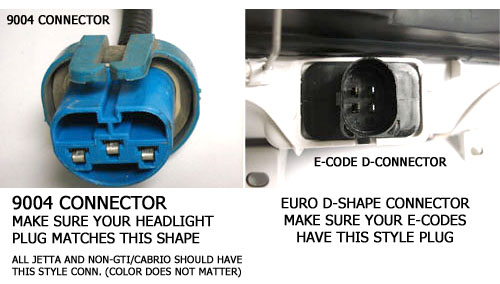 ⚠️CALIFORNIA WARNING: Cancer and Reproductive Harm - www.P65Warnings.ca.gov
---