Front | EBC BlueStuff Track Brake Pads | MK4 Golf R32 |
DP51035NDX
---
EBC Bluestuff pads which are made of high friction sport and race materials that can be used for aggressive street driving and certain types of track use. This material has had much success on the track with quality aftermarket calipers and multi-piston systems with better release and cooling and larger rotors.The biggest advantage of the EBC Bluestuff NDX material is their bite from cold and progressive brake feel.

• World's first street and true track pad
• Factory heat scorched to reduce bed in times to minutes
• World's first chemical interlayer system for super strong pad bond to backing plates
• Huge lifetime almost double previous EBC products
• Easy on rotors, surfaces are left smooth and not scored
• Low heat transfer, balanced heat sink
• Great release, pads let go as soon as you do
• Deep V grooves catch dirt dust and debris and improve venting
Bluestuff is an entry level trackday and race pad that has good street manners and is actually R90 approved for street driving.
For customers with experience of EBC's widely acclaimed Yellowstuff material, Bluestuff boasts a similar friction profile but with a usefully higher friction coefficient across the now larger working range, feeling much like you'd imagine Yellowstuff to feel after a double hit of espresso. Bluestuff has the added benefit of much faster bed in time has a high friction coefficient without feeling grabby, taking things up a notch from EBC's Yellowstuff material by bringing superb pedal modulation to a track pad with even greater fade resistance.
EBC Bluestuff are heat scorched which helps bedding times but you still need to take care especially on the highway and when using on part worn rotors. Use the brakes gently for 200 miles, gradually increasing demand on the brakes in a SAFE ROAD ENVIRONMENT until you feel totally confident and can evaluate their stopping distances in all traffic conditions.

Remember, it's down to you and your bedding-in process. If you do feel brake fade a couple of times and even smell the brakes, this is totally normal and once achieved and the brakes are allowed to cool, they will have improved a lot.

There are several ways of surface scorching pads and EBC has chosen an infra red lamp tunnel for surface preparation of its pad ranges. The furnace is now scorching all pads for resale including the Bluestuff range.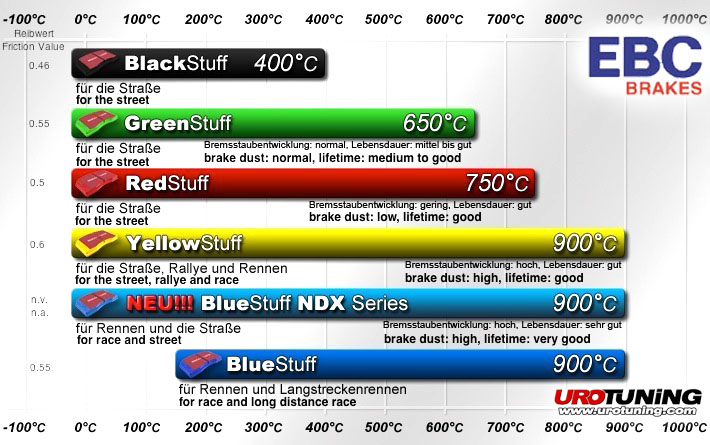 ⚠️CALIFORNIA WARNING: Cancer and Reproductive Harm - www.P65Warnings.ca.gov
---