HPA Motorsports EFR 7670 Single Turbo Kit - VW / Mk4 R32 / Mk1 TT / 3.2L VR6
---

| | |
| --- | --- |
| Mk4 DTM7670 installation guide: | DTM Compression reduction installation guide: |
HPA EFR Single Turbo Program for 3.2L VR6
DTM TURBO KIT
HPA's entry level Direct To Manifold (DTM) turbo kit delivers 360+ ft-lbs torque and 350+ hp under 7 pounds of boost and is the perfect way to whet your appetite for power. Upgrade your system by adding our Liquid Cooled Intake Manifold with Air-to-Water intercooler, and a variety of support parts, to jump up the 410 to 470 hp range.
ENGINEERING AND EXPERIENCE
A decade devoted to tuning the narrow angle VR6 was kicked off with our twin turbo 4-motion converted New Beetles. Next came our twin turbo packages for the 3.2L motor with the release of the R32, and in 2005 the FT ("Full Throttle") line of single turbos was added to our repertoire. 2007, our CVP intake manifold furthered this program by introducing air-to-water intercooling, followed by packages for the Mk5 chassis. Our EFR Edition is a culmination of all our technical experiences, and offers a stop and go daily commuter that will transform every driving experience into a thrill ride with no compromises.
CONSTRUCTION
More than just a turbo "kit", the EFR Edition Single Turbo System is engineered to exact specifications for each application and includes absolutely everything needed for your technician to install.
The lengthy list of components that go into each and every built to order turbo system includes several proprietary developments that set HPA turbo kits apart from the rest:
- Integrated liquid cooled cast intake manifold is an all in one design specific solution that takes the workload off the turbo; lowering EGT's and affording more ignition in the software maps yielding best in market throttle response and performance. In daily stop and go, no other after cooling solution is as effective as the air to water in generating a cool and steady intake temp.
- Velocity Tuned Exhaust manifolds are cast from the highest quality materials. Our manifolds retain the CRITICAL orientation and placement of the engine's Oxygen sensors to ensure correct fuel calibrations and DSG-> engine communications. Our exhaust manifolds will deliver instant throttle response while insulating and dispersing generated heat. There are NO design short cuts with this Manifold!
- Borg Warner EFR Turbocharger with Gamma-Ti Turbine Wheels and Dual Ceramic Ball Bearing Design.
- Custom Stainless Heat shields direct the flow of heat down the firewall into the safe suction zone reducing under hood air temps and ensuring peripheral hardware is not subject to heat stress.
- Performance engine software ensures OEM like daily drivability is retained while adaptive calibrations adjust ignition and fuel maps for ambient temperature, octane, and load changes (28mpg on hwy cruising).
FULL THROTTLE - EFR 7670Single Turbo Systems Available for Mk4 R32 / Mk1 TT:
DTM: 350 hp - 360 ft/lbs - 7psi
FT-410: 410 hp - 420 ft/lbs - 14psi
FT-470: 470 hp - 500 ft/lbs - 19-22psi
All Packages Include:
EFR 76/70 Single Scroll Turbo
HPA proprietary cast exhaust manifold with external O2 sensor bungs
Stainless Steel downpipe with interlock flex joint
Stainless Steel manifold heatshield
4mm Compression Reduction kit (7.5:1)
500mL Fuel injectors
Fuel pressure regulator*
Custom wrapped Silicone Boost Plumbing
Stainless Steel Oil and Water lines
Vaccuum lines and Emission Control Integration*
Software*
Boost Controller*
* - Exact specification varies by system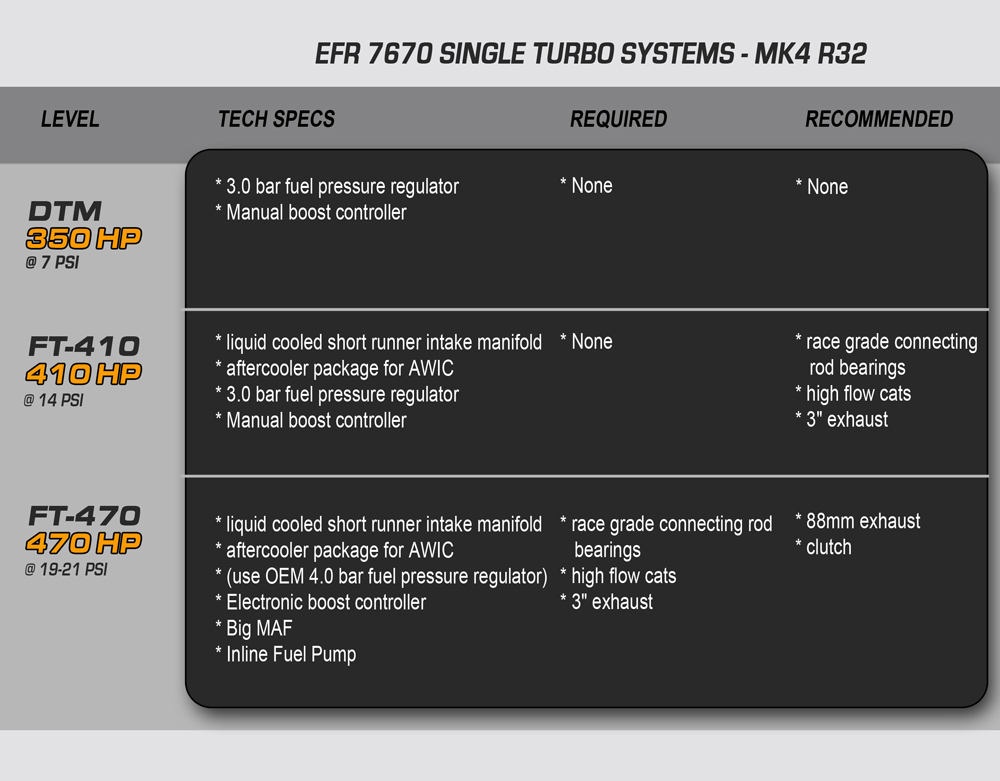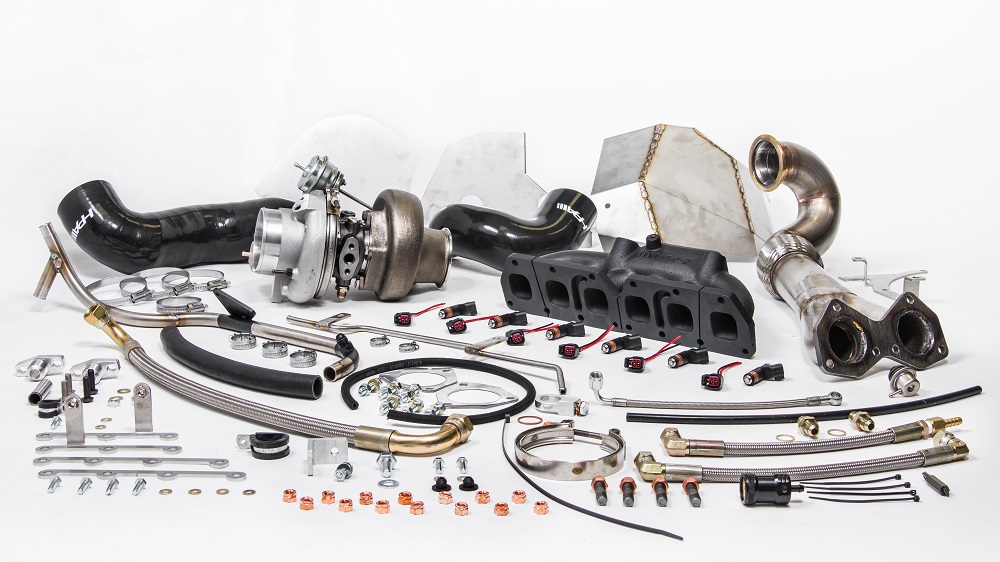 ⚠️CALIFORNIA WARNING: Cancer and Reproductive Harm - www.P65Warnings.ca.gov
---