Rear | EBC GreenStuff Sport Brake Pads | ATE Calipers |
DP22132
---
Green Stuff Brake Pads are a direct replacement for your stock pads
Formulated for everyday street driving performance - sport compacts, muscle cars, and light trucks
30% less dust than OEM replacement pads
Beveled edges and center line slot fight off squeals for quiet stops
Pads and pad plates are green powder coated for a lifetime of rust-free service
All Pads feature a center-line slot that vents in cool air to prevent thermal cracking
EBC's unique coating delivers rapid bedding, maximizing braking power
Medium wheel dusting
Not for track use
Covered by EBC with a 12-month/10,000 mile warranty
Equip your vehicle with EBC Green Stuff Brake Pads and experience hair-trigger pedal response! Green Stuff pads are formulated for everyday street use on sport compacts, muscle cars, premium sedans, and light trucks. These pads immediately clamp down as soon as they touch your vehicle's rotors. EBC Green Stuff Brake Pads are specially designed to deliver serious grip as soon as your foot touches the pedal, staying strong until your vehicle comes to a stop or you hit the gas.
EBC Green Stuff Brake Pads are as quiet as it gets. The beveled edges and center-line slot keep noise to a minimum. In addition, these performance pads also make 30% less dust than stock pads. Covered by EBC with a 12-month/10,000 mile warranty.
For even higher street performance with less dust, check out EBC Red Stuff Brake Pads. And if you're looking for high performance brakes for racing, go with EBC Yellow Stuff pads.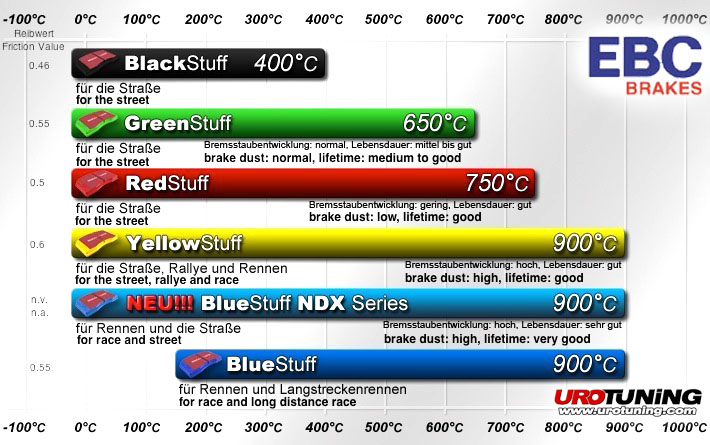 Applications:
BMW 228 Convertible 2.0 Turbo ATE calipers 2015 and up
BMW 228 Coupe 2.0 Turbo ATE calipers 2014 and up
BMW 320 2.0 Turbo (F30) 2013 and up
BMW 320 xDrive 2.0 Turbo (F30) 2013 and up
BMW 328 2.0 Turbo (F30) ATE calipers 2012 and up
BMW 328 xDrive 2.0 Turbo (F30) ATE calipers 2012 and up
BMW 328 xDrive 2.0 Turbo GT (F34) ATE calipers 2013 and up
BMW 328D 2.0 TD (F30) 2012 and up
BMW 328D 2.0 TD (F31) 2012 and up
BMW 328D xDrive 2.0 TD (F30) 2012 and up
BMW 328D xDrive 2.0 TD (F31) 2012 and up
BMW 428 2.0 Turbo (F32) ATE calipers 2013 and up
BMW 428 Convertible 2.0 Turbo (F33) ATE calipers 2015and up
BMW 428 Gran Coupe 2.0 Turbo (F36) ATE calipers 2015and up



⚠️CALIFORNIA WARNING: Cancer and Reproductive Harm - www.P65Warnings.ca.gov
---