Rear EBC Slotted | Dimpled Rotors - Set of 2 Rotors (330x22mm) B8 S4 | S5 |
GD1572
---
EBC 3GD Series dimpled and slotted Sport rotors are precision-machined using premium-quality castings. Designed with wide-aperture scraper slots and blind-drilled holes, these 3GD rotors draw cooler air in and reduce temperatures for no brake fade under load. Plus, their dimpling helps them to avoid stress cracks. Able to expel dirt, dust, and gases, EBC Sport rotors also maintain flat and parallel pad wear for better pad contact and better braking. These high performance rotors are available in sporty black anodized finish that not only look great, but also prevent corrosion. Enhance the performance and looks of your car with EBC 3GD Series Sport rotors.

The dimple drilled rotor was invented by EBC back in the 90's and has been imitated by many because of its ability to offer pad degassing without "Through Drilling" disc or rotor holes which has been shown to promote rotor cracks.
The wide aperture slots on the EBC units actually draw cool air under the brake pad and rotor interface and help cool the temperatures of the pad contact which can shoot up to well over 1000 degrees at the very heart of the brake pad during heavy braking and can cause brake fade or loss of brake effect.
These "Full sweep" slots on the EBC Sport Brake rotor also help remove dirt dust debris and water from the braking area but without doubt the MAIN benefit of such sport rotors is their ability to maintain a flat and parallel pad surface throughout the lifetime of the brake pad set.
EBC manufacture many of its rotors in either its own sister company foundry in the UK or in Italy, all rotors are machined and finished in the UK and in the USA. Where castings or finished rotors have to bought in to complement the range, the strictest quality controls you can imagine ensure the safety and quality of the parts we sell. EBC adds VALUE to its products by strictest quality controls and specifications and a 100% run out and dimensional check, plus ALL USA sport rotors are slotted at the Los Angeles facility of the USA operation. In times when everyone has run off to the Far East and many rotor suppliers are nothing more than brokerage houses , EBC has done its part in every way possible to maintain UK , European and in particular US jobs. We employ 14 people in our USA rotor machining facility alone.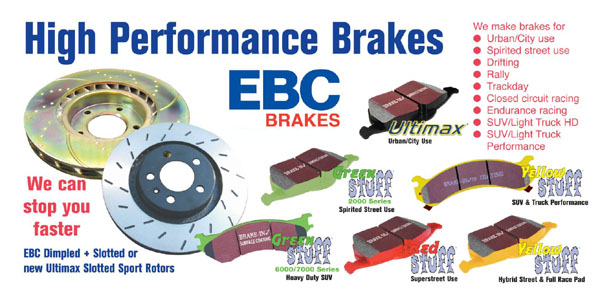 ⚠️CALIFORNIA WARNING: Cancer and Reproductive Harm - www.P65Warnings.ca.gov
---