Rear EBC Ultimax Slotted Rotors - Set of 2 Rotors (245x10mm) B6 A4 1.8T |
USR1202
---
Whether it?s on the street or the track, squealing to a halt is not only embarrassing, it takes the fun out of high-performance driving. So, go for a set of EBC?s super-quiet Ultimax Slotted Rotors. EBC rotors deliver world-class braking performance without the earth-shattering noise that plagues common performance discs.
EBC?s progressive slotting provides an escape for the gasses, debris and moisture that cause brake fade. Plus, the angle at which these slots are machined creates a high-performance rotor that runs ultra-quiet. So, when you see heads turning, they?re looking at your ride?not cringing at your brake squeal.
Crafted in England from the highest quality British steel, EBC Rotors deliver consistent braking and even pad wear. And, since they?re slotted instead of drilled, Ultimax Rotors aren?t prone to cracking. Best yet, your EBC Ultimax BlackDash Slotted Rotors are backed by a 6-month/5,000-mile warranty.

Features
EBC Ultimax BlackDash Series Slotted Rotors are a direct replacement for your stock discs
Engineered for high-performance and spirited driving
Designed to stay cool and quiet under the harshest conditions
Progressive slotting provides consistent performance, longevity and even pad wear
Unique design prevents ridges from forming on pads and discs?unlike common drilled rotors
Precision-cut slots vent heat, gases and moisture to prevent brake fade
Slotted rotors are less prone to cracking and maintain structural integrity longer than drilled rotors
Crafted in Britain from the finest grades of copper-inclusive grey iron
Sold in pairs for both the front and rear of your vehicle
EBC backs your Ultimax BlackDash Series Slotted Rotors with a 6-month/5,000-mile warranty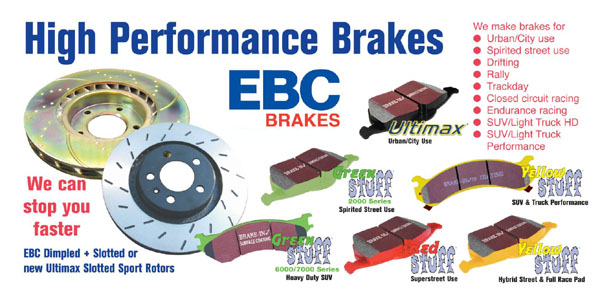 2002-2005 Audi A4 1.8T with 245mm rotors.



⚠️CALIFORNIA WARNING: Cancer and Reproductive Harm - www.P65Warnings.ca.gov
---