Racingline Front Brake Line Kit | MQB | Mk7 | 8V |
VWR69G7FR
---

The VWR Brake Line Kits, made from the finest reinforced braided stainless steel are the pinnacle of brake line technology, race-proven in the most demanding of conditions for all Golf 7 and MQB-platform cars (although only those with electronic parking brake).

These direct-replacement Brake Lines help to avoid the spongy pedal feel under demanding conditions as heat build-up grows, giving greater braking efficiency as well as providing superior resistance to any damage or corrosion.

These MQB kits for Volkswagen Golf 7 GTI & R not only provide the reliability and safety demanded for a hard-driven high-performance car but also offer good looks under your wheel arches.

Overall, the VWR Brake Line Kit makes one of the most cost-effective upgrades you can make to your car, whether standard brakes or the VWR MonoBlock Big Brake Kit (or indeed any other aftermarket brake kit).

Benefits & Features:
Advanced Materials

VWR Brake Line Kits are manufactured in the UK from carbon effect PTFE lined, stainless steel reinforced hose. The fittings on the end of each hose manufactured from 303 Stainless Steel.

Peace of Mind

The lines are not only lightweight, but offer outstanding high strength to protect your lines from road debris and damage, plus high chemical resistance.

Heat Resilience

With excellent temperature resistance characteristics, the VWR Brake Lines retain a high level of dimensional stability (reducing expansion and creep even after prolonged stress at elevated temperatures).

Race Proven

There is no more demanding challenge for lines than race - and the VWR Brake Lines are proven time after time on circuit; even with the high temperatures that race fluids use.

Direct Replacement

These lines are a simple direct replacement for the factory rubber hoses, and come supplied complete with nylon locators to ensure the hose can be secured in the same position as OEM hoses.

Perfect Pedal Response

With levels of temperature resilience vastly higher than the factory rubber hoses (suitable for all fluids, standard to race), your brake pedal will remain firm long after heat soak gives a spongy pedal on the original set up.
Hose Specifications

Four direct-replacement brake lines for front and rear, made to the exact correct lengths for Golf 7 and MQB vehicles. Not applicable for models with cable handbrake - electronic brake only.

- 304 Stainless Steel Wire Braid with PTFE Smooth Bore Inner Lining.
- PVC outer protective cover (smoked for carbon effect appearance).
- Temperature Limits: from -73°C (-100°F) up to +260°C (+500°F), depending on pressure.
- Working Pressure Ratings: -3 = 350 Bar (5000 psi) to -16 = 80 Bar (1150 psi) for temperatures up to 150°C (300°F).

Hose Tail End Specifications
Compatible ends to fit directly onto all brake set ups - from standard factory, to VWR Monoblock Big Brake Kit, and any other brand of brake kit.

- Produced from 303 stainless steel.
- Feature swivel nuts at either end to aid ease of fitting.
- Fixed banjos for each caliper end are supplied complete with stainless steel banjo bolts and matching copper washers.
- Each hose end is swaged down to a fixed dimension to guarantee the perfect seal.
- Extensively tested, developed and manufactured in the UK, and proven on our race cars to ensure the kit performs in the most demanding of environments.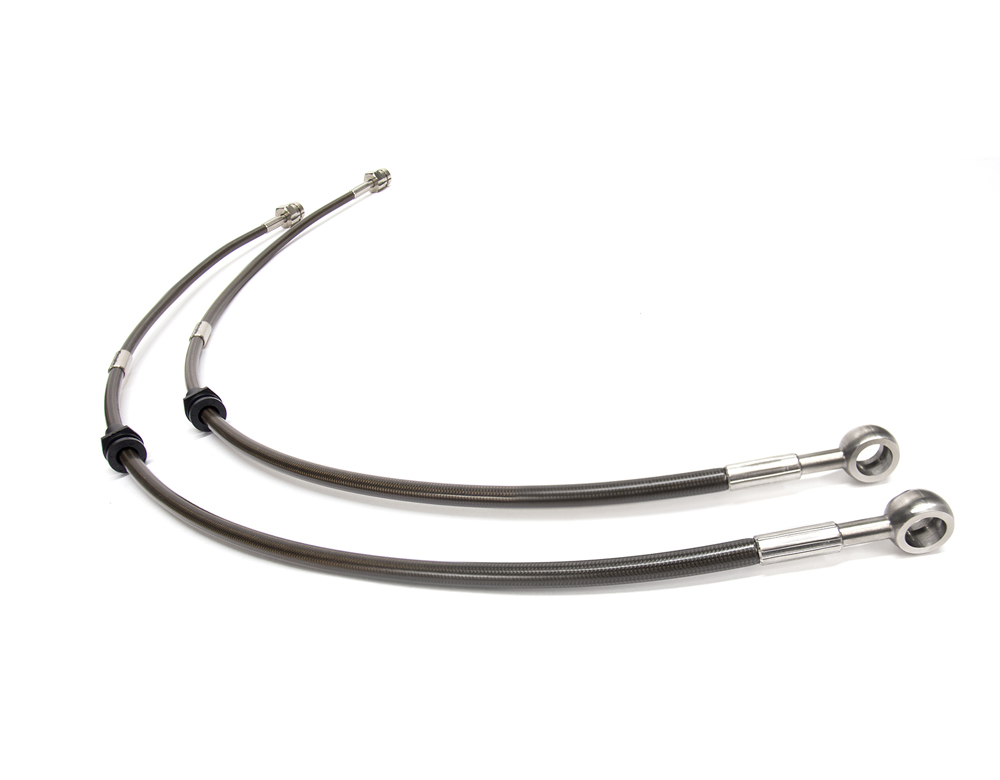 ⚠️CALIFORNIA WARNING: Cancer and Reproductive Harm - www.P65Warnings.ca.gov
---